Best Multispeciality Hospitals in India
1. Apollo Hospitals, Greams Road, Chennai
Apollo Hospitals, Greams Road, Chennai is the top most hospital across India. It offers elevated medical procedures and technologically advanced facilities. It is spearheaded by internationally trained health-care experts in various specialties. True to its commitment of achieving excellence in each aspect of healthcare, Apollo Hospitals in Chennai has gained global acclaim and a leading position nationally.
Services and Facilities:
Over 60 departments
600 hospital beds
Internationally trained and skilled medical experts
Online consultation, visa facilitation for international patients
Cutting edge innovations in various clinical and surgical procedures and techniques
State-of-art facilities for various health disorders and ailments
More than 30 specialties available
National level of emergency services to provide emergency care of uniform standards across the nation
Meticulous organization of critical care services
Third generation cath labs, intensive care units and critical care units
One of the world's largest and most comprehensive solid organ transplant program
Specialties:
Anesthesiology
Cardiology
Cardio-Thoracic Surgery
Cosmetic Surgery
Critical Care
Dermatology
Diabetology
Emergency
Endocrinology
Endocrine Surgery
ENT
Gastroenterology
General Medicine
General Surgery
Geriatrics
Hematology
Infectious Disease
Laboratory Services
Neonatology
Nephrology
Neurology
Nuclear Medicine
Obstetrics & Gynecology
Ophthalmology
Oral & Maxillofacial Surgery
Orthopedics Surgery
Physiotherapy
Plastic Surgery
Radiology & Imaging Sciences
Respiratory Medicine
Rheumatology
Reproductive Medicine
Thoracic Surgery
Vascular Surgery
Urology
Awards & Recognitions:
Joint Commission International accredited
Won the top position in All India Critical Care Hospital Survey 2017 by Times Health
Won the Australian Service Excellence Award in 2015 for its elevated standards of Management, training and commitment to excellence
Won the 'Hospital of the Year' with best Medical Tourism facilities award in 2015
Won the 'ICICI Lombard & CNBC TV18 India Healthcare Awards' for 'The Best Multi-specialty Hospital - Metro' in 2012
Rated as the best private multi-specialty hospital in India by 'Best Hospital in India - Survey 2012 - The Week Magazine'
Contact Address:
Apollo Hospitals, No. 21,
Greams Lane, Off Greams Road,
Chennai, TamilNadu - 600006
Book an Appointment
2. Indraprastha Apollo Hospital, Delhi
Indraprastha Apollo Hospital is one of the leading health-care institutes across India. It is well known for its cutting edge technologies used for the benefit for their national and international patients. It has enriched lives of 45 million patients coming from 120 countries for more than 3 decades, providing world-class medical services.
Services and Facilities:
756 hospital beds
20 operation theaters
150 equipped ICUs
Multi-disciplinary approach
24x7 emergency services of cardiologists, stroke team and trauma team
World-class cardiac emergency care
Provides world's largest preventive cardiac check-up programme
Free sample collection service available within a radius of 10kms from the hospital
Provides cutting edge technologies like Da Vinci robotics surgery system, novalis radiosurgery system, high dose rate
brachytherapy, 64-slice scan, etc.
Round the clock pharmacy
Technology equipped ambulance network
Special lounge for international patients
Specialties:
Anesthesiology
Paediatrics (ACAP)
Bone Marrow Transplant
Cosmetic & Plastic Surgery
Dental Clinic
Neonatology
Dermatology (Skin)
Department of Elder Care
Gastroenterology & Hepatology
General & Advanced Laparoscopic Surgery
Pediatric Urology & Pediatric Surgery
Endocrinology (Diabetes Care)
ENT (Ear, Nose & Throat)
Fetal Medicine
Gynecology & Obstetrics
Heart Institute
Infertility Care
Bariatric Care
Cancer Care
Emergency Care
Nephrology
Neurosciences
Orthopedics
Respiratory Medicine, Clinical Care & Sleep Medicine
Robotic Surgery
Spine Surgery
Transplant Surgery
Internal Medicine
Nuclear Medicine
Ophthalmology
Psychiatry & Clinical Psychology
Radiology
Rheumatology
Urology & Andrology
Vascular & Endovascular Surgery
Physiotherapy & Rehabilitation
Transfusion Medicine
Awards & Recognitions:
Ten years of Joint Commission International accreditation
ISO 9001:2008 certified
IISO 22000 - HACCP certified by the British Standards Institution
NABL accredited laboratory services as per ISO: 15189, 2007 standards
Awarded No. 1 in Renal Sciences, Pediatrics, Obstetrics & Gynecology, Neurosciences, Oncology, and Emergency in India by 'Times of India Healthcare Survey 2016.'
Awarded the 2nd Best Hospital in India among the list of top multi-specialty/super specialty hospitals by 'The Times of India Top Hospital Survey 2016.'
Contact Address:
Indraprastha Apollo Hospitals,
Sarita Vihar, Delhi Mathura Road,
New Delhi - 110076
Book an Appointment
3. Medanta - The Medicity, Gurgaon
Medanta is among the largest multi-specialty hospitals in Gurgaon. It has been providing medical treatments within its state-of-art infrastructure to patients. It uses both traditional as well as modern forms of medicine to offer affordable and accessible health-care services to patients.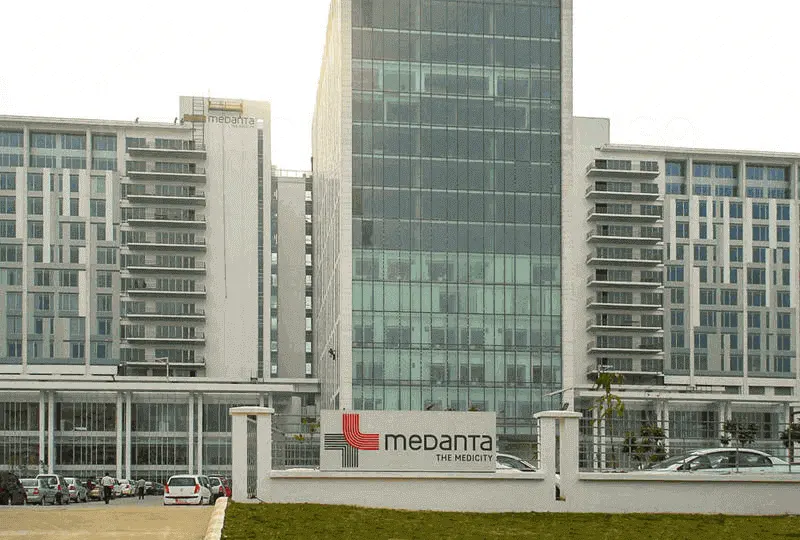 Services and Facilities:
1250 beds
350 critical care beds
37 operation theaters
Spread across 43 acres, the institute consists of a research center, nursing and medical school
Technological advancements with state-of-art treatment facilities at affordable prices
Super-specialty institute located in Gurgaon, is 10 minutes away from the airport
Offers cutting edge technologies like brain suite, 3.0 tesla MRI, gamma camera, intra-operating imaging operating theater, etc.
Offers personalized services to international patients like visa assistance, appointment scheduling, hotel reservations,treatment packages, etc.
Specialties:
Endocrinology/Diabetes
ENT & Head Neck Surgery
Internal Medicine
Ophthalmology
Plastic, Aesthetic & Reconstructive Surgery
Laboratory Medicine
Physiotherapy & Rehabilitation
Nuclear Medicine
Pathology
Radiology
Transfusion Medicine (Blood Bank)
Emergency & Trauma Care
Pharmacy
Cardio Thoracic & Vascular Surgery
Cardiology
Neurosciences
Bone and Joint Institute
Kidney & Urology
Medical Oncology & Haematology
Radiation Oncology
Anesthesiology & Critical Care
Awards & Recognitions:
NABH accreditation – Standards for Hospital
NABH accreditation – Standards for Blood Banks
Joint Commission International accreditation
NABL accredited world-class laboratories
Won the Best Multi-specialty hospital of the year by 6th MT India Health Care Awards in 2016
Won best multi-specialty hospital award VCCircle Healthcare Investment Summit 2013
Ranked 3rd in the nation for the Distinguished Hospital Award for its Clinical Excellence in 2011
Contact Address:
Medanta - The Medicity,
Sector - 38, Gurgaon,
Haryana - 122001
4. Kokilaben Dhirubhai Ambani Hospital & Medical Research Institute, Mumbai
Kokilaben Dhirubhai Ambani Hospital is one of the finest medical institutes in India. It uses evidence-based machines, state-of-art technologies and follows international standards to provide the best health-care services for patient care. It is known to have raised the bar in terms of diagnostics and treatments with world-class outcomes.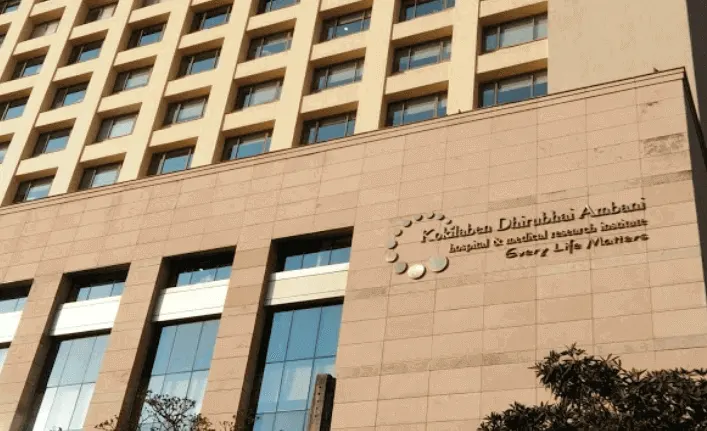 Services & Facilities:
750 inpatient beds
180 ICU beds
22 Operation theaters
Only hospital to provide Full Time Specialist System (FTSS)
24/7 Lab services offered, home visit for sample collection anywhere in Mumbai
24 hour Pharmacy, Travel Desk and other services and amenity provision
State-of-art infrastructure, cutting-edge technology for best outcomes for patient's welfare
10 lakh sq. ft. area spread over 14 floors and two basements
42 dialysis machines
300 paramedics
Over 240 independent consulting clinics that handle over 9000 outpatients consultations everyday
56 patient relative accommodations
Laboratory spread over 40,000 sq. ft. offering over 3000 routine and highly advanced diagnostic, genetic and molecular biology tests
Advanced technologies for diagnostics & treatments like EDGETM – The most powerful Stereotactic Radiosurgery tool used in cancer treatment, aquatic treadmill for neurosciences & rehabilitation, external counter pulsation (ECP) machine for refractory cardiac failure, etc.
Specialties:
Accident & Emergency
Anesthesiology
Bariatric Surgery
Cancer Care
Clinical Haematology
Children Care
Cosmetology & Plastic Surgery
Diabetes, Endocrinology & Obesity
Dental Surgery
Dermatology
Development Disorders Care
ENT
Gastroenterology
General Surgery
Genetics & Molecular Medicine
Gynecology & Obstetrics
Hepato Pancreato Biliary Care
Internal Medicine
Interventional Radiology
Laboratory Medicine
Minimal Access Surgery
Nephrology
Neurosciences
Nuclear Medicine
Ophthalmology
Pain Management & Palliative Care
Psychiatry
Pulmonology Medicine
Regenerative Medicine
Reproductive Endocrinology & Fertility
Robotic Surgery
Transfusion Medicine
Transplant Surgery
Urology
Vascular Surgery
Bone & Joint Surgery
Cardiac Sciences
Children's Heart Care
Critical Care
Mother & Child Care
Physical Medicine & Rehabilitation
Sport Medicine
Awards & Recognitions:
World's leading JCI accredited medical institute
Attained NABH accreditation by the International Society for Quality in Healthcare
CAP accredited center
Laboratories accredited by NABL
Ranked No.1 in Best Hospital Survey, 2016 by The Week Magazine Mumbai
Won the Best Mutlispecialty Hospital at BW Business World Healthcare & Summit Awards 2016
Recognized as the Reader's Digest Trusted Hospitals 2016
Ranked No.1 Multi-specialty Hospital in Mumbai and Western India by Times of India Survey 2016
Awarded the Smartest Hospital Building in India by Honeywell
Contact Address:
4. Kokilaben Dhirubhai Ambani Hospital,
Rao Saheb Achutrao, Patwardhan Marg,
Four Bunglows, Andheri West,
Mumbai, Maharashtra - 400053
5. Max Superspecialty Hospital, Saket
Max Superspecialty is one of the proficient healthcare centers in India. It is known to deliver international class health-care services committed to benchmark standards of medical & service excellence, scientific knowledge, patient welfare and medical education. It provides highest standards of medical excellence at a fraction of international prices
Services & Facilitites:
500+ bedded healthcare facility
225 critical care beds
71 bedded multi-speciality ICU
20 Operation theaters
3 Cath Labs
4 MRIs and 4 CTs
Treated more than 34 lakh patients across its specialties
State-of-art technological facilities like 1.5 Tesla MRI machine, 64 Slice CT Angio
Advanced Neurosurgical operation theater available
Offers advanced technologies like Da Vinci Xi Robotic System for complex surgeries using minimal invasive methods
Specialties:
Aesthetic & Reconstructive Surgery
Audiology & Speech Therapy
Bariatric/ Weight Loss Surgery
Bone Marrow Transplant
Oncology
Cardiac Sciences
Dental Care
General Surgery & Robotics
Dermatology
Diabetes & Endocrinology
Ear Nose Throat
Emergency Care
Eye Care
Gastroenterology
Health & Wellness
Internal Medicine
Interventional Radiology
IVF (In Vitro Fertilization)
Kidney Transplant
Liver Transplant & Biliary Sciences
Mental Health & Behavioural Sciences
Minimal Access Surgery
Nephrology
Neurosciences
Nutrition & Dietetics
Obstetrics & Gynecology
Orthopedics
Pediatrics
Physiotherapy
Podiatry
Pulmonology
Awards & Recognitions:
NABH accredited healthcare center
ISO 9001:2000 certified
Won prestigious award by the 'Association of Healthcare Providers of India (APHI)'
Awarded as one of the best hospital for 'Excellence in Healthcare Delivery' by the FICCI Healthcare Delivery Awards
Awarded for Operational in Healthcare Delivery by FICCI in 2010
Contact Address:
Max Super Speciality Hospital,
1, 2, Press Enclave Road,
Mandir Marg, Saket,
New Delhi, Delhi - 110017
6. Apollo Health City, Jubilee Hills, Hyderabad
Apollo Health City in Hyderabad is an esteemed medical care center in patient service since 1988. The hospital has established centers of excellence for providing patients comprehensive and well-rounded facilities for their health concerns. It also houses accurate and advanced diagnostic programmes that help doctors investigate causal aspect of patient disease. The expert medical care offered by its consultants attracts patients from different countries like UAE, UK, China, Japan etc.
Services and Facilities:
350 bedded hospital
12 ambulances equipped with advanced emergency support
Ayurveda Rejuvenation Program
Apollo Sugar
Apollo PET Scan Center
Apollo Telemedicine
Nuclear Medicine
Blood Bank
Rehabilitation & Physiotherapy
Robotic Surgery
Pain Management Clinic
Specialties:
ENT
Ophthalmology
Cosmetic Surgery
Colorectal Surgery
Respiratory Medicine
Liver, Kidney and Heart Transplant
Gynecology
Pediatrics
Orthopedics
Bariatric Surgery
Gastroenterology
Cardiology
Oncology
Awards and Recognitions:
Joint Commission International (JCI) certification
3-time winner of "Best Medical Tourism Facility award"
Winner of International Medical Tourism Award in 2014
Recognized as the best multispecialty hospital in Hyderabad by a survey conducted by "The Week" Magazine in 2012
Contact Address:
Apollo Health City
Jubilee Hills, Hyderabad 500033,
Telangana State, India.
7. Fortis Hospital, Mulund
Fortis Hospital, Mulund is a renowned center of excellence in the medical field across India. It is a multi-specialty tertiary care medical center offering range of high-class diagnostic and treatment services. It follows patient centric approach to provide best facilities & services at affordable prices.
Services & Facilities:
300-bedded facility
24/7 Blood Bank Services available within the hospital campus
Availability of full time pharmacy service within the campus area
Cashless services for admission process available at the insurance desk / TPA desk
24/7 trauma care services available
24/7 Critical Care Services provisions
Specialities:
Internal Medicine
Radiology
Oncology
Pediatrics & Neonatology
Rheumatology
Sports Medicine
Anesthesiology
Chest Medicine
Dermatology
Endocrinology
ENT
Ophthalmology
Psychiatry
Vascular Surgery
Cardiology
Nephrology
Pediatric Surgery
Emergency Medicine
Haematology
Medical Oncology
Plastic / Cosmetic Surgery
Pulmonology
Minimal Access Surgery
Critical Care
General & Laparoscopic Surgery
Gastroenterology & Hepatology
Speech Therapy
Thoracic Surgery
Mental Health & Behavioural Sciences
Dentistry & Maxillofacial Surgery
Neurology
Obstetrics & Gynecology
Orthopedics & Joint Replacement
Pain Management
Urology
Spine Surgery
Arthroscopy
Bariatric Surgery
Pediatric Cardiology
Diabetic Foot & Wound Management
Radiation Oncology
Organ Transplantation
Neurosurgery
Cardio Thoracic Vascular Surgery
Gastrointestinal & Hepatobiliary Surgery
Pediatric Cardiac Surgery
Surgical Oncology
Aesthetic Dermatology
Orthopedic Oncology
Awards & Recognitions:
JCI accredited medical institute
Achieved 1st NABH accreditation for the blood bank in India
NABL accredited pathology lab
Listed among the top 20 best multi-specialty hospitals in India, 2016 by i3RC
Achieved the Medical Team of the Year Award by the British Medical Journal Awards, 2014
Achieved the Asian Hospital Management Award for 'Patient Safety & HRD' category, 2014
Achieved the Healthcare Leadership Award for Best Patient Safety category, 2014
Achieved Asian Patient Safety Awards for Innovation in Staff Education Category, 2014
Contact Address:
Fortis Hospital,
Goregaon Mulund Link Road,
Mulund West, Mumbai - 400078
Book an Appointment

8. Nanavati Hospital, Mumbai
Nanavati Hospital is a remarkable name in the national health-care sector. This iconic center offers a wide spectrum of health-care services with the most advanced medical systems in order to serve our community. This center has radiology and diagnostic centers engineered with international standard procedures and technologies offering best in class medical interventions. Pick and drop services available from the airport for international patients
Services and Facilities:
350 bedded hospital
75 bedded full-fledged critical care unit
State-of-art imaging center with 3 Tesla 32 channel MRI scanning systems
Cardiology faculties available 24/7 to render interventional cardiac services
Telemedicine service for remotely located patients
Minimally invasive interventional procedures like bronchoscopy, endoscopy, etc. available for diagnostic and treatment purposes
Technologically advanced catheterization lab available at Heart Care Center of Nanavati
24 hours of service provided by the blood bank unit, critical care unit, emergency and trauma care unit, pharmacy unit, etc.
Specialties:
Orthopedics
Bariatric Surgery
Bone Marrow Transplant
Breast Surgery
Cosmetology
Dentistry
Dermatology
Diabetic Care
Gastrointestinal Care
Endocrinology
General Surgery
Laparoscopic Surgery
Gynecology and Obstetrics
Microsurgery
Cardiology
Cardiac Surgery
Internal Medicine
Spine Surgery
Liver Care
Neonatal and Pediatric Center
Nephrology
Neurology
Neurosurgery
Oncology
Ophthalmology
Otorhinolaryngology (ENT)
Pediatrics
Pediatric Surgery
Physiotherapist
Psychiatry
Pulmonology
Radiology
Rheumatology
Urology
Awards and Recognitions:
Accredited under NABH standards
FICCI awarded center
Contact Address:
Nanavati Hospital, SV Road,
LIC Colony, Suresh Colony,
Vile Parle West, Mumbai,
Maharashtra - 400056
Book an Appointment

9. BLK Super Speciality Hospital, New Delhi
BLK Super Speciality Hospital is among the top-notch health-care centers across India. It is one of the largest tertiary care private medical institute in the country. It consists of best in class technology providing health-care services with bench marked standards & protocols to all its patients. Adapting state-of-the-art infrastructure, it follows cutting edge & robotic guided technological advancements in various surgical areas.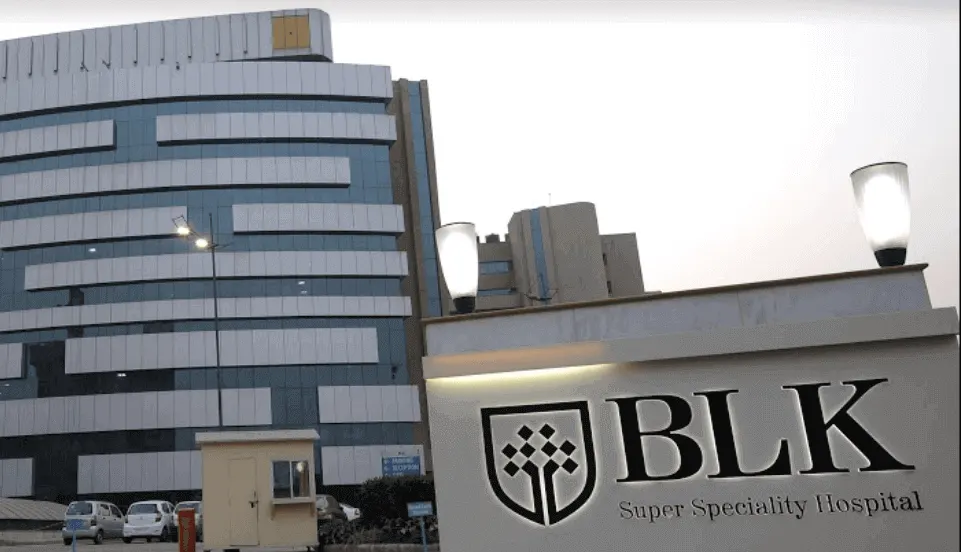 Services & Facilities
650-bedded hospital spread over 5 acres of land
17 state-of-art well equipped modular operation theaters with gas scavenging system and three stage air filtration for patient's safety purposes
125 beds in different intensive care units
24/7 availability of facilities like CRRT, endoscopy, haemodialysis, SLED and bronchoscopy
Two floored outpatient service units with 60 consultation rooms
Offers automatic pneumatic chute system to enhance the efficacy and efficiency of health-care delivery
30 bedded bone marrow transplant unit
Provides top of the line Hospital Information System (HIS) to connect and contact its inpatient, outpatient and different diagnostic areas.
Specialties:
Anesthesiology
Ayurveda
Bariatric & Advanced Laparoscopic Surgery
Bone Marrow Transplantation
Cancer Care
Children Heart Care
Critical Care
Dental & Maxillofacial Surgery
Dermatology
Digestive & Liver Diseases
Emergency & Acute Care Medicine
Endocrinology & Endocrine Surgery
ENT & Cochlear Implant
External Counterpulsation
General & Minimal Access Surgery
Gynecology & Obstetrics
Heart Care
Hepato Pancreato Biliary Surgery
Internal Medicine
Interventional Radiology
IVF & Infertility Treatment
Liver Transplantation
Neurosciences
Nuclear Medicine
Nutrition & Health
Ophthalmology
Orthopedics, Joint Reconstruction & Spine Surgery
Pain Medicine
Pathology
Paediatrics
Pediatric Surgery
Physiotherapy & Rehabilitation
Plastic & Cosmetic Surgery
Psychiatry
Renal Sciences & Kidney Transplant
Respiratory Medicine, Allergy & Sleep Disorders
Rheumatology
Surgical Gastroenterology
Awards & Recognitions:
NABH accredited Institute
NABH accreditation for Patient's Safety & Quality of Care
NABL accredited Laboratories
Recognized to have one of the biggest critical care programmes
Consistently ranked among the top 10 Multi Super Speciality Hospitals in Delhi NCR and India
Recognized as Asia's largest and world's fasting growing bone marrow transplant center
Won Impact Innovation of the Year award 2015
Contact Address:
BLK Super Speciality Hospital,
Pusa Road, Rajinder Nagar,
New Delhi, Delhi - 110005
Book an Appointment

10. Fortis Memorial Research Institute, Gurgaon
Fortis Memorial Research Institute is one of the reputed health-care organizations of our country. It is a multi-super-specialty, quaternary care hospital. It utilizes cutting-edge technologies in various fields and specialties to provide quality treatment, facilities and services to its patients.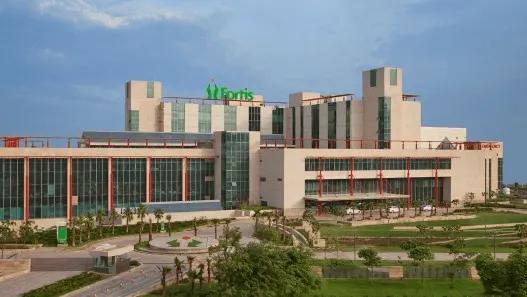 Services & Facilities:
1000-bedded hospital
Spread across 11-acre area
Several state-of-art technologies offered in diagnostics & therapeutic fields
Cutting-edge technological provisions like Brain lab, 3 Tesla MRI, Bi-Plane Cath Lab, 256 slice CT, Elekta etc.
e-ICU for adapting advanced patient management system giving clinicians 24/7 accessibility towards their patients
Real time blood sample processing and open lab (see through glass lab) provisions
Integrated & voice modulated OTs with centrally controlled, two modular operating rooms
Medical laboratories offering ISO standard services
Specialties:
Anesthesiology
Cardiac Sciences
Cosmetic, Reconstructive & Plastic Surgery
Critical Care
Dental Sciences
Dermatology
Diabetes, Endocrinology & Metabolic Disorders
Emergency Medicine & Trauma
Bone & Joint Care
Gynecology
Gastroenterology & Hepatobiliary Sciences
General Surgery
Haematology & Pediatric Haematology
Oncology & BMT
Hepato-Pancreato-Biliary Surgery
Internal Medicine
Liver Transplant
Mental Health & Behavioural Sciences
Minimal Access, Bariatric & GI Surgery
Mother & Child Care
Neurosciences
Nuclear Medicine
Oncology
Ophthalmology
ENT
Paediatrics
Pain Medicine
Pulmonology, Pulmonary Critical Care & Sleep Medicine
Radiology
Renal Sciences
Rheumatology & Clinical Immunology
Robotic Surgery
Stem Cell Therapy
Transfusion Medicine
Transplant Medicine
Awards & Recognitions:
NABH accredited hospital
NABL accredited laboratories
Won two awards under the Safety and Process Innovation of Frost & Sullivan's Project
Ranked by Reader's Digest amongst the top trusted hospitals in India, 2016
Evaluation & Recognition Program 2015
Awarded for the title 'Green Hospital' in 2014
Contact Address:
Fortis Memorial Research Institute,
Sector - 44, Opposite HUDA City Center,
Gurgaon, Haryana - 122002
Book an Appointment

11. Apollo Hospital, Bannerghatta Road
Apollo Hospital, Bannerghatta Road is listed as one of the top-notch medical centers nationally. With each passing year, this tertiary care institution has leveled up with the newly introduced medical systems. This hospital is committed to offer a wide range of the finest medical care services and facilities to patients of all age group. This institution also comprises of online support systems to help international patients to plan their visit.
Services and Facilities:
250 bedded hospital
Diagnostic systems equipped with 4D ultrasound to receive 4 dimensional sonography reports
Radiology center equipped with digital X-ray, holmium laser, digital fluoroscopy, etc.
Real time navigation systems utilized for accurate surgical and interventional procedures
Basic and advanced echocardiography procedures available for cardiology and pediatric cardiology departments
Cath labs combined with stent hand technique to perform coronary perforation methods
24 hours of pharmacy, blood bank and ambulance services available
Emergency and trauma care units operate round the clock
Critical care units comprising of pediatric intensive care unit (PICU), neonatal intensive care unit (NICU), cardiac care unit (CCU) operational 24/7
Specialties:
Cardiology
Cardiac Surgery
Orthopedics
Hand and Peripheral Nerve Surgery
Neurosciences
Cancer Care
Diabetology & Endocrinology
Organ Transplant
Gastroenterology
General Medicine
Bariatric Surgery
Nephrology
Rheumatology
Pulmonology
Urology
Vascular and Endovascular Surgery
Awards and Recognitions:
Certified JCI institute
Listed as the second best hospital by the Best Hospital Survey by The Week -A C Neilsen in 2013
Contact Address:
Apollo Hospital, 154/11,
Bannerghatta Road, Opposite IIM,
Bangalore, Karnataka - 560076
12. Continental Hospital, Hyderabad
Continental Hospital is the epitome of the healthcare industry in Hyderabad, providing quality services to all its national and international patients. This multi-speciality center covers an entire circumference of integrated medical services to offer complete quaternary care to its beneficiaries. This center uses international benchmark standards in all clinical and medical procedures with best in class technological systems.
Services and Facilities:
750 hospital beds
High resolution imaging technologies utilized in the radiation oncology units
Latest systems like TrueBeamStx machines used for radiotherapy and radiosurgery procedures
Fluorescence in situ Hybridization methods available for treatment of kidney, respiratory and neurological disorders
Dialysis units full fledged with latest tools for all types of dialysis techniques
Blood bank units operational 24/7
Emergency, cardiac unit and trauma care operate 24/7 for patients who require immediate medical attention
24 hours of ambulance services
Specialties:
Anesthesiology
Cancer Care
Orthopedics
Neurosciences and Rehabilitation
Cardiovascular Sciences
Gastroenterology
Gynecology
Neonatology and Pediatrics
Endocrinology
Renal Sciences
Minimally Invasive Surgery
Plastic Surgery
Radiology
Bariatric and Metabolic Surgery
Dermatology
Internal Medicine
Ear Nose Throat (ENT)
Pulmonology and Sleep Disorders
Rheumatology
Dentistry
Psychiatry and Psychology
Ophthalmology
Awards and Recognitions:
Accredited under JCI standards
Contact Address:
Continental Hospital, Plot No. 3,
Road No. 2, IT & Financial District,
Nanakramguda, Gachibowli,
Hyderabad, Telangana - 500035
Book an Appointment

13. Aster CMI Hospital, Bangalore
Aster CMI is one of the top multi-speciality hospitals in India. It is a quaternary care patient centric health-care institute that offers state-of-art health-care provisions with advanced systems and facilities. This hospital is full fledged with the finest health-care providers across the country to ensure comprehensive care to all its national and international patients.
Services and Facilities:
Around 500 hospital beds
14 operation theaters
Operation theaters equipped with isocentric C arm technology
Advanced monitoring systems utilized in anesthesiology, neuromuscular units, diagnostic and radiology divisions
Ambulance pick up services within 5km radius for patients who require immediate medical assistance
Ambulances with moving ICU systems available
Diagnostic units full-fledged with advanced systems like Bi-plane flat panel Angio Cath Lab, fluoroscopy units, radiology suite, etc.
Critical care units available with 24 hours of medical assistance
Specialties:
Anesthesiology
Bariatric and Metabolic Surgery
Cardiac Care
Internal Medicine
ENT
Medical Gastroenterology
Neurosciences
General Surgery
Pulmonology
Liver Care
Organ Transplant Surgery
Rheumatology
Nephrology
Dermatology
Orthopedics
Plastic Surgery
Robotic Surgery
Gynec Health
Pediatrics
Medical Oncology
Radiology
Surgical Oncology
Vascular Surgery
Ophthalmology
Dentistry
Psychiatry
Awards and Recognitions:
Blood banks accredited under NABH standards
NABL accredited clinical labs
Contact Address:
Aster CMI Hospital, No. 43/2,
New Airport Road, NH 7, Sahakara Nagar,
Bangalore, Karnataka - 560092
Book an Appointment

14. Fortis Malar Hospital, Chennai
Established in the year 1992, Fortis Malar is one of the fastest growing health-care units across the nation. This medical unit is infrastructured with integrated medical delivery systems and cutting edge technologies. This center caters tertiary care health-care services and world class facilities, making it one of the most preferred health-care destinations in the country.
Services and Facilities:
180 hospital beds
60 bedded intensive care units
30 bedded coronary ICUs
4 full fledged operating rooms
Nephrology department equipped with ultra-modern dialysis unit
Cardiology department equipped with state-of-art Cath lab with digital flat panel system
Heart care facilities available 24/7
Round the clock availability of intensivists, critical care health experts and cardiologists
24 medical assistance available by acute coronary care unit, cardiac ambulance services, ambulance services, pharmacy and blood bank units
Specialties:
Cardiology
Cardiac Surgery
Neurology
Neurosurgery
Spine Surgery
Orthopedics
Nephrology
Urology
Urosurgery
Gastroenterology
Gastrointestinal Surgery
Pulmonology
Gynecology
Ophthalmology
General Medicine
General Surgery
Minimal Access Surgery
Dermatology
ENT
Pediatrics
Diabetology and Endocrinology
Medical Oncology
Oncosurgery
Anesthesiology
Plastic Surgery
Psychology
Psychiatry
Radiology
Rheumatology
Vascular Surgery
Awards and Recognitions:
Contact Address:
Fortis Malar Hospital, No. 52,
1st Main Road, Gandhi Nagar, Adyar,
Chennai, Tamil Nadu - 600020
Book an Appointment

15. Artemis Hospital, Gurgaon
Artemis Hospital is one of the most proficient hospitals across the nation. It is known for its spectrum of advancements in both medical & surgical interventions, offering comprehensive inpatient & outpatient services. Over the years, it has set up new standards in the medical sector by introducing latest technological approaches that are serviced at affordable costs making it the most revered hospital in the country.
Services & Facilities:
Spread across 9 acres campus
380-bedded provision including more than 65 ICU beds
Offers state-of-art services in neurology, cardiac, orthopedics, neurosurgery, oncology and emergency care department
Full-service office available for overseas patients including pre-departure assistance, post admission services and post discharge services
Language supportive marketing services available for assisting & guiding international patients
Round the clock availability of emergency & trauma services
Latest advancements utilized in diagnostics & treatments like dual gamma camera, 64 slice cardiac CT scan, image guided radiation therapy, flat panel cath labs with stent boost technology, etc.
Specialties:
Anesthesia & Pain Medicine
Child Care
Blood Bank & Transfusion Medicine
Cardio thoracic & Vascular Surgery
Cardiology
Cosmetic & Plastic Surgery
Critical Care & ICU
Dentistry
Dermatology & Cosmetology
Emergency & Trauma Services
Endocrinology
ENT
Fetal Medicine
Gastroenterology
General and MI Surgery
Haematopoietic Stem Cell Transplant
Hematology
Psychology
Internal Medicine
Laboratory Services
Nephrology
Neuroanesthesia & Neuro Critical Care
Neurointerventional Surgery
Neurology
Neurosurgery
Nuclear Medicine
Obstetrics & Gynecology
Oncology
Ophthalmology
Organ Transplant
Orthopedics
Pediatrics
Pediatric Cardiology & Cardiac Surgery
Pediatric Surgery
Radiology
Reproductive Medicine
Respiratory Critical Care & Sleep Medicine
Rheumatology & Clinical Immunology
Spine Surgery
Stem Cell Transplantation
Urology
Awards & Recognitions:
NABH accreditedAccreditation by Joint Commission International
Achieved Global Green OT Accreditation, 2015 by Bureau Veritas
Ranked among the top 15 multi-super-specialty hospitals by i3RC Healthcare Survey, 2016
Achieved 'Asia Pacific Hand hygiene excellence award by World Health Organization, 2011
Awarded as Best Institute for Medical Value by The CNBC Awaaz Travel Awards, 2010
Awarded as the Best IT Implementation of the Year, 2008 by Express Healthcare Magazine
Contact Address:
Artemis Hospital,
Sector 51, Gurgaon,
Haryana - 122001
Book an Appointment

16. Ruby Hall Clinic, Pune
Ruby Hall Clinic is one of the renowned health-care centers in India, located in the City of Pune. The hospital is well equipped with best set of physicians, surgeons and various other health-care providers to serve best medical care to those in need. With an aim to render quality comprehensive care to its patients, this hospital has adapted to both traditional as well as advanced technological levels of health-care services in all speciality areas.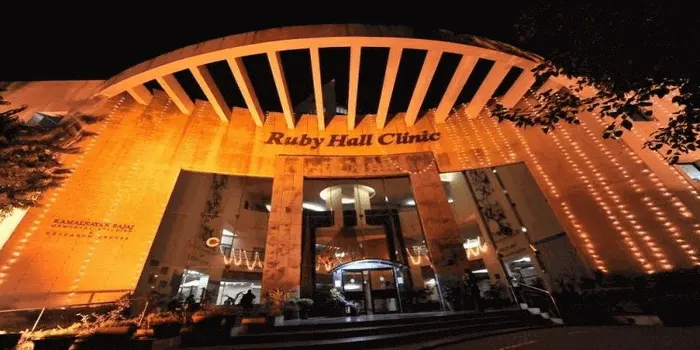 Services and Facilities:
550 inpatient hospital beds
130 bedded intensive care units
Cobalt therapy procedures available for cancer interventions
Air ambulance service provisions
Radiology units full fledged with advanced and digital imaging technologies
24 hours of ambulance services available
Pharmacy and blood bank units operational round the clock
24 hours of medical assistance by the emergency, trauma care and critical care units
Specialties:
Anesthesiology
Bariatric and Metabolic Surgery
Cancer Care
Cardiology
Cosmetic Surgery
Dental Surgery
ENT
Gastroenterology
General Surgery
IVF and Endoscopy
Kidney Transplant
Laparoscopic Surgery
Liver, Pancreatic and Biliary Care
Neurology
Neurosurgery
Obstetrics and Gynecology
Ophthalmology
Orthopedics and Joint Replacement Surgery
Pediatrics and Neonatology
Pediatric Surgery
Psychiatry
Spine Surgery
Urology
Vascular Surgery
Awards and Recognitions:
Accredited NABH health-care center
Laboratories accredited under NABL standards
Awarded as The Best Hospital in India by the Economic Times
Awarded as No.1 Hospital in Pune by The Week Magazine
Contact Address:
Ruby Hall Clinic, 40,
Sassoon Road, Pune,
Maharashtra - 411001
Book an Appointment