Best Cancer Hospitals in Hyderabad
1. Apollo Health City, Jubilee Hills
The cancer care center of excellence at Apollo Health City is well recognized to cater 360 degrees of oncology services. The hospital provides a complete range of services for treatment, therapy and prevention of all types of cancer. With updated systems, the center for cancer has brought many latest approaches to cure common cancerous diseases.
Services and Facilities:
350 hospital beds
Molecular diagnostic services to study many common types of cancers
Cancer clinics for prevention and therapeutic interventions
Robot based surgical machines in the operative cancer center
Exclusive liquid biopsy technique to collect cancer tissues for analysis
Cyberknife provision for therapeutic areas of cancer care
Board of expert cancer doctors and surgeons for organ specific cancer services
Radiosurgery procedures for discarding tumors and cancerous cells
24 hours of services offered towards trauma and emergency patients
24 hours of services for ambulance, pharmacy and blood bank
Exclusive intensive care units for clinical and surgical areas operational 24/7
Specialties:
Anesthesiology
Clinical Oncology
Surgical Oncology
Diagnostic Oncology
Hemato-Oncology
Radiation Oncology
Preventive Oncology
Radiosurgery
Awards and Recognitions:
JCI accredited healthcare center
Certified NABH center
Contact Address:
Apollo Health City, Road No. 72,
Opposite Bharatiye Vidya Bhavan School,
Film Nagar, Jubilee Hills, Hyderabad, Telangana 500033
2. American Oncology Institute, Nallagandla
Situated in Hyderabad city, The American Oncology Institute is a single speciality center providing world class medical services for all types of cancerous diseases. The institute utilizes technologies with high precision to study and treat various types of cancers. With high level of treatment, therapy and surgery and evidence based protocols, cancer patients are catered with complete comprehensive care.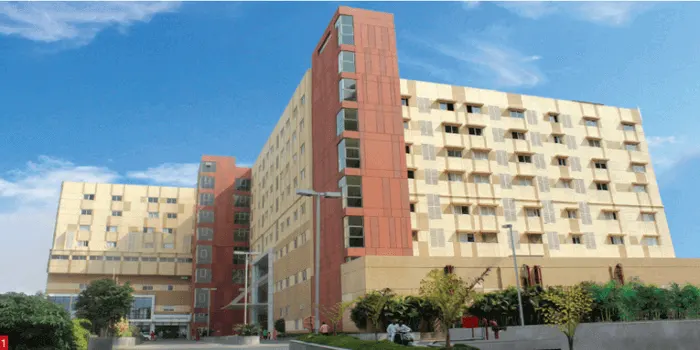 Services and Facilities:
250 bedded cancer care facility
Calypso medical device for tracking cancerous tumors
Patient centric environment
Laser technologies used for surgical, therapeutic and interventional sections of oncology
4 dimensional imaging technology for diagnosis and study of cancerous diseases and monitoring of treatments
Digital mammography machines for analysis and treatment of breast cancer
Rapid Arc machines for radiation therapy with 360 degree rotation
Clinical facilities for management and prevention of cancer
1:4 nurse patient ratio followed in every sub-cancer unit
High-end endoscopic and microscopic tools used for surgical purposes of neuro-oncology
Specialties:
Anesthesiology
Radiation Oncology
Medical Oncology
Surgical Oncology
Head and Neck Surgery
Musculo Skeletal Oncology
Hemato-Oncology
Pediatric Oncology
Neuro Oncosurgery
Awards and Recognitions:
Certified under American Board
Contact Address:
American Oncology Institute, 1-100/1/CCH,
Near Aparna Sarovar, Nallagandla,
Serillingampally, Hyderabad, Telangana 530019
3. Omega Hospitals, Banjara Hills
Omega Hospitals is one of the topnotch centers in Hyderabad city that delivers comprehensive care for patients suffering from various types of cancers. It is a multi-speciality institution that offers advanced cancer treatment and therapy procedures for management of common types of cancers. The center utilizes innovatory techniques to treat patients according to their gender and age.
Services and Facilities:
175 bedded hospital
Exclusive Cyberknife VSI systems for advanced interventions of cancer
Digital mammography procedures with 3 dimensional imaging provisions
Computed radiography for learning types of cancerous disorder
Diagnostic and interventional units full-scaled with digitized systems
Nuclear scanning provisions for various cancer imaging tests
Stereotactic biopsy procedures for collection of cancerous tissue samples
Endobronchial ultrasound for learning about lung cancer
Inpatient and outpatient facilities available
Blood bank units operational 24/7
Pharmacy centers open for 24 hours
Round the clock ambulance service provisions
Specialties:
Medical Oncology
Surgical Oncology
Radiation Oncology
Pediatric Oncology
Ortho Oncology
Neuro Oncology
Onco Radiology
Diagnostic Oncology
Awards and Recognitions:
Contact Address:
Omega Hospital, No. 8-2-293/82/L/276A,
MLA Colony, Road No. 12, Banjara Hills,
Hyderabad, Telangana 500034
4. Continental Hospital, Gachibowli
The institute for cancer at Continental Hospital is well known to offer some of the finest quality of cancer care services across Hyderbad city. The institute consists of a specialized radiation center that follows high end radiation therapeutic facilities for palliative care of cancer patients. It is equipped with a dedicated team of oncologists and oncosurgeons to render comprehensive cancer treatments and care.
Services and Facilities:
232 hospital beds
Radiation therapy processes with updated systems providing 3 dimensional images
Micro-neurosurgery available for treatment of all types of brain tumors
Radiology units based with ultra-modern equipment
Utilizes benchmarked quality of medical procedures
Bone directed therapy provisions for breast cancer treatment
Full-scaled bone marrow transplant center for pediatrics and adults suffering from blood cancer
Volumetric modulated arc therapy for palliative cancer care
24 hours of intensive care services
Ambulance pick and drop provisions available round the clock
Exclusive medical and surgical procedures for trauma patients offered 24/7
Specialties:
Medical Oncology
Surgical Oncology
Bone Marrow Transplant Care
Breast Cancer Care
Radiation Oncology
Radio-Oncology
Preventive Oncology
Awards and Recognitions:
Accredited by JCI standards
NABH accredited hospital
Contact Address:
Continental Hospitals, Plot No. 3, Road No. 2,
IT & Financial District, Nanakramguda, Gachibowli,
Hyderabad, Telangana 500035
Book an Appointment

5. Yashoda Hospitals, Hyderabad
The Yashoda Cancer Institute of Yashoda Hospitals has been infrastructured with modern systems and equipment to offer a full-scaled cancer care services to all its patients. The institute follows multi-disciplinary approaches in all areas of treatment, therapy and surgery procedures related to cancer. They also offer multi-modality clinical services with specialized team of cancer doctors and medical staff.
Services and Facilities:
Overall capacity of 1710 beds
3 separate cancer institutes spread across different locations of Hyderabad
Triple F radiosurgery methods for effective cancer treatment and faster recovery
Advanced treatment processes for moving tumors using 4D gated RapidArc technology
Radiation machines with high precision imaging systems for therapeutic cancer care
TrueBeams machines with high dose tools to treat cranial tumors
Cancer surgical systems with ARIA-11 higher 64-bit platforms
Dual source CT scan machines for screening tests and monitoring of cancer cells
da Vinci robotic surgical systems for better outcomes
24 hours of medical and surgical services offered by the critical care units
24 hours availability of ambulance services
Specialties:
Medical Oncology
Surgical Oncology
Radiation Oncology
Radio-Oncology
Hemato-Oncology
Preventive Oncology
Awards and Recognitions:
All types of laboratories accredited under NABL standards
NABH accredited institutes
Contact Address:
Contact Address1:
Yashoda Hospital, Nalgonda,
X Roads, Malakpet, Hyderabad 500036
Contact Address2:
Yashoda Hospital, Alexander Road,
Secunderabad, Hyderabad 500003
Contact Address3:
Yashoda Hospital, Rajbhavan Road,
Somajiguda, Hyderabad 500082
6. Gleneagles Global Hospital, Lakdi ka Pul
Gleneagles Global Hospital is one of the profound medical center to cater best-in class cancer care facilities in Hyderabad city. The cancer center at this hospital utilizes a combination of modern technology and innovations with quality standards to service a complete range of cancer care for its beneficiaries. The radiology unit for cancer is engineered with state-of-art machines that provides high precision of imaging results for better monitoring and study of various types of cancer.
Services and Facilities:
200 full-scaled hospital beds
High-end machines for chemotherapy and radiotherapy purposes
High frequency radiation equipment for therapeutic oncology process
Specialized unit for stem cell transplantation procedures
Biopsy tests for studying type and stage of cancer
Bone scan provisions to learn about cancerous tumors
24 hours of radiological services
Multiple intensive care units for critical ill patients
24 hours of accident and emergency care service provisions
Ambulance backed with cardiac support systems available 24/7
Specialties:
Medical Oncology
Hematology
Radiation Oncology
Radio-Oncology
Preventive Oncology
Awards and Recognitions:
NABH accredited medical facility
NABL accredited lab facilities
Contact Address:
Gleneagles Global Hospital, 6-1-1040/1 to 4,
Lakdi ka Pul, Hyderabad, Telangana 500004
7. MaxCure Hospital, Secretariat Road
MaxCure Hospital is listed among the most popular centers for treatment of cancer across Hyderabad city. This medical facility consists state-of-art infrastructure in medical and surgical areas of cancer care. With ultra-modern systems and high-end machines, the cancer center delivers end to end oncological services to all its patients.
Services and Facilities:
Capacity of 300 beds
7 rooms dedicated for operative purposes
85 bedded facility in the intensive care units
MRI machines with 1.5 Tesla of magnetic field intensity to image various types of cancers
Availability of neuro-microscopic equipment to treat cranial tumors
Utilizes advanced monitoring systems for better outcomes
Rotablation methodologies for treatment and therapy of cancer
24 hours of critical care services
Ambulance based with life saving systems available 24/7
Emergency care team operate for 24 hours a day
Specialties:
Medical Oncology
Surgical Oncology
Interventional Oncology
Hematology
Gynec-Oncology
Palliative Oncology
Radiation Oncology
Radio-Oncology
Awards and Recognitions:
Accredited by NABH standards
Contact Address:
MaxCure Hospital, 5-9-22, Sarovar Complex,
Secretariat Road, Saifabad, Secunderabad,
Telangana 500063
Book an Appointment