Best Gastroenterology Hospitals in India
1. Medanta - The Medicity, Delhi
Medanta is among the top-wrung hospitals in Delhi. This hospital has attained global name and fame because of its infrastructural and medical support. The gastroenterology unit at this hospital is amongst the best. It boasts of the busiest pediatric liver transplant team in the country.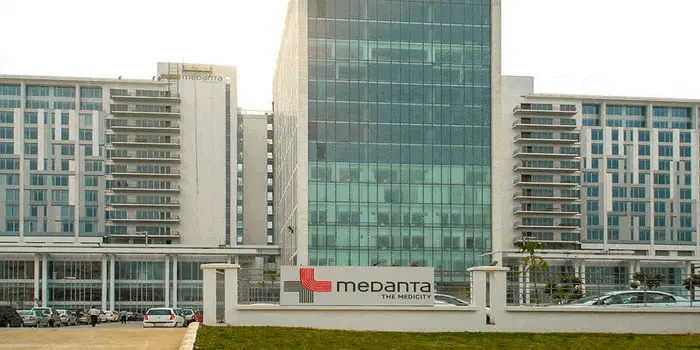 Services & Facilities:
37 state-of-the-art operation theaters
1250 beds
350 beds for critical care
Gastrointestinal and liver high dependency unit
Highly trained gastroenterologists, liver transplant surgeons and interventional radiologists
Special unit for pediatric gastroenterology and liver transplant
Equipped ICU to handle emergency cases
Clinics for treatment of metabolic diseases, liver health, nutrition etc.
Specialties:
Endoscopic Retrograde
Cholangiopancreatography (ERCP)
Therapeutic ERCP
Endoscopic Ultrasonography
Liver biopsy
Enteroscopy
Manometry
24 hrs pH & Impedance monitoring
Percutaneous Endoscopic Gastrostomy
Pediatric Gastroenterology & Liver Transplant
Awards and Recognitions:
Winner of India's best multi-specialty hospital award VCCircle Healthcare Investment Summit in 2013
Winner of Best Multi-specialty hospital of the year by 6th MT India Health Care Awards in 2016
Hospital and Blood Bank accredited by National Accreditation Board of Hospitals & Health-care Providers
JCI accredited hospital
Contact Address:
Medanta - The Medicity
Sector - 38, Gurgaon
Haryana - 122 001, India
2. Indraprastha Hospitals, New Delhi
Indraprastha Apollo is a branch of the elite Apollo chain. It has gained global acclaim which is evident in the number of international patients it gets. The super specialty unit for gastroenterology at this hospitals provides every treatment option under this medical domain. Qualified doctors and best facilities ensure that patients get high quality treatment. The gastroenterology department is run by highly efficient gastroenterologists and surgeons at all times.
Services & Facilities:
756 hospital beds
20 fully-equipped operation theaters
Round-the-clock open chemist shop
150 advanced Intensive Care Units
3 labs for endoscopic procedures
High-end and high-precision diagnostic machinery for proper diagnosis of diseases in patients
Platinum Lounge
Specialties:
ERCP and Enterostenting services
Diagnostic endoscopy
Therapeutic UGI Endoscopy
Endoscopic Ultrasound
Liver transplant program
Therapeutic Colonoscopy
Capsule Endoscopy
Oesophago-gastric Surgery
Hepatobiliary procedures
Pancreatic, Intestinal, Colorectal surgeries
GI cancer surgery
Bariatric procedures
Liver Surgery
Bile Duct/Gallbladder surgery
Portal Hypertension Surgery
Awards & Recognitions:
Winner of the 2nd Best Hospital in India among the list of top multi-specialty/super specialty hospitals in 'The Times of India Top Hospital Survey 2016.'
First hospital in India to get accreditation from Joint Commission International (JCI).
NABL accreditation for clinical laboratories
Ranked 4th amongst best hospitals for Gastroenterology in the year 2015 by Week-Nielsen surgery
Contact Address:
Indraprastha Apollo Hospitals,
Sarita Vihar, Delhi Mathura Road,
New Delhi - 110076
Book an Appointment

3. Apollo Hospital, Greams Road, Chennai
The Greams Road facility is the flagship facility of Apollo healthcare group. It is frequented by foreigners for availing quality health-care. This facility was founded in 1983. It has gained a positive reputation in these few decades with the help of its dedicated personnel and state-of-the-art technologies. The Institute of Medical & Surgical Gastroenterology makes use of high-precision technologies for treatment of disorders of gastrointestinal system, pancreas, liver etc. in adults and children.
Services & Facilities:
600 bedded unit
State-of-the-art ICUs
24*7 blood bank facilities
An advanced Hepatobiliary Critical Care Unit
Multi Organ Transplant Unit
Specialties:
Upper GI endoscopy
Enterescopy
Capsule Endoscopy
Manometry of anus, esophagus, anorectal region
Cholecystectom
Appendectomy
Splenectomy
Intestinal Resections
Oesophagus
surgery
Stomach
surgery
Intestines
surgery
Liver
surgery
Pancreas surgery
Billiary Reconstruction surgery
Awards & Recognitions:
Winner of All India Critical Care Hospital Survey 2017 conducted by by Times Health
Recognized liver transplant programs for adult as well as child gastrointestinal issues
Recognized for performing complex procedures such as laparoscopic oesophageal surgery, gastric resections, colorectal surgery, pancreatic
surgery, small bowel surgery routinely
Contact Address:
Apollo Hospitals, No. 21, Greams Lane,
Off Greams Road, Chennai,
TamilNadu - 600006
Book an Appointment

4. Kokilaben Dhirubhai Ambani Hospital & Medical Research Institute, Mumbai
Kokilaben Dhirubhai Ambani Hospital & Medical Research Institute, Mumbai is an acclaimed medical facility in Mumbai with every advanced treatment facility for patient benefit. The The Department of Gastroenterology and Clinical Nutrition has superior diagnostic technology like Endoscopic Ultrasound for aiding the gastroenterologists in treatments. Liver diseases are thus diagnosed at an early stage.

Services & Facilities:
750 beds available
3 fully-equipped endoscopic suites
Equipped ambulance service
Round the clock emergency facilities
Technologically equipped operation theaters
Fibroscan
Only hospital in Mumbai to provide Full Time Specialist System (FTSS)
Practice based on evidence based medicine
Specialties:
Therapeutic ERCP
Therapeutic Endoscopic Sonography
Diagnostic procedures for gall bladder, pancreas and liver
Diagnostic Sigmoidoscopy
Awards and Recognitions:
Hospital certified by Joint Commission International (USA)
College of American Pathology (CAP) certified hospital
National Accreditation Board of Hospitals and Health-care Providers (NABH) accredited hospital
National Accreditation Board for Testing and Calibration Laboratories (NABL) accredited laboratories
Contact Address:
Kokilaben Dhirubhai Ambani Hospital,
Rao Saheb Achutrao, Patwardhan Marg, Four Bunglows,
Andheri West, Mumbai, Maharashtra - 400053
5. Asian Institute of Gastroenterology, Somajiguda, Hyderabad
One of the finest hospitals in India solely dedicated to treatments of issues and illnesses related to gastrointestinal tract. Initially started out as an endoscopy center it has now become the largest referral center in the Asian continent. The institute boasts of a panel of specialists and surgeons who are the best in dealing with varied surgeries and treatments related to gastroenterology.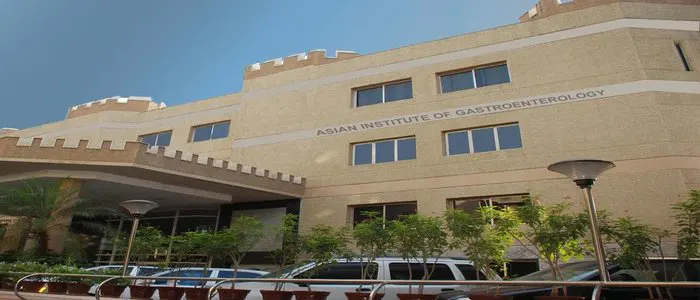 Services & Facilities:
250 hospital beds
Intensive Care Unit
12 bedded LIVER INTENSIVE CARE UNIT( LICU)
In-house Pharmacy
Facilities for interventional radiology
Day care facilities available
Well equipped facility for endoscopic procedures
Specialized clinics for Hepatitis, Fatty liver, Liver cancer, Alcoholic liver
Counseling for immunization provided
Specialties:
Medical Gastroenterology
Surgical Gastroenterology
HepatologyInterventional Radiology
Awards & Recognitions:
One of the largest referral centers in Asia for Therapeutic Endoscopy
One of the few centers in the country doing Endoscopic Ultra Sonography, Endoscopic Sewing, Capsule Endoscopy and Extra corporeal Shock Wave Lithotripsy
Also have the credit of performing largest number of ERCP procedures in the world
Awarded the "Best Hospital for Gastroenterology in India," 2011 by "The Week"
Chairman of the hospital Dr. D. Nageshwar Reddy has received the Padmabhushan award
Contact Address:
Asian Institute of Gastroenterology
6-3-661, Somajiguda, Hyderabad - 500 082
Andhra Pradesh India
Book an Appointment

6. Yashoda Hospitals, Hyderabad
Yashoda hospitals have 3 branches for serving residents of Hyderabad and Andhra Pradesh. The hospital is supported by dedicated medical personnel who are available on-duty round-the-clock. Geared with state-of-the-art operation suites and rehabilitation units, the hospital strives to provide highest quality medical intervention. The Center for Gastroenterology operates with the help of medical and surgical gastroenterology departments run by efficient specialists and surgeons.
Services & Facilities:
1710 beds
Highly experienced liver transplant surgeons
Dedicated Liver Intensive Care Units (LICU)
Great emphasis is given on precise diagnosis
Live donor and deceased (cadaveric) donor liver transplantation for adult and paediatric patients
Specialties:
UGI Endoscopy
Endo-therapeutic treatments for treatment of GI cancers
Manometry
Endoscopic USG
Liver Resection
Shunt & Devascularization surgeries for portal hypertension
Bariatric surgeries
Awards and Recognitions:
Ranks 1st in The Week Nielsen Best Hospital Survey 2015
NABH certification
NABL accreditation
Contact Address:
1. Secunderabad Alexander Road, Secunderabad - 500003
2. Somajiguda Rajbhavan Road, Somajiguda, Hyderabad - 500082
3. Malakpet Nalgonda X Roads, Malakpet, Hyderabad - 500036
7. Apollo Hospitals, Jubilee Hills, Hyderabad
Apollo Hospitals in Hyderabad is a world-class medical facility offering quality health-care to Indian and foreign national patients. Apollo Health City offers treatment services across a wide spectrum of medical specialties. The hospital strives to provide world-class health-care to each and every patient turning up to their doorstep. The health city has highly updated technology for treating disorders like stomach ache, liver diseases, bowel diseases, ulcers etc.
Services & Facilities:
24 hour service for acute bleeds & acute liver failure
350 bedded facility
Round-the-clock trauma care facilities
Apollo Day-care center for outpatient surgeries
Advanced ICUs
Specialties:
Medical gastroenterology
Surgical gastroenterology
Endoscopic management of Chronic Pancreatitis
Chronic liver diseases
Serological assessment for Hepatitis A, B, C, D & E
Piles Clinic
Hernia Clinic
Laparoscopic surgeries
Awards and Recognitions:
Ranked consistently amongst the top hospitals
NABH Certification
JCI recognized hospital
Contact Address:
Apollo Health City Hospital Hyderabad
Road No 72, Opp. Bharatiya Vidya Bhavan School,
Film Nagar, Jubilee Hills, Film Nagar, Hyderabad, Telangana - 500033
8. Max Super-specialty Hospital, Saket, New Delhi
Max Super-specialty hospitals are spread over the entire Northern part of India for benefits of people in Delhi and neighboring states. They endeavor to provide best-in-class services to their patients. The Saket facility possesses best-in-class treatment facilities for treating diseases of gastrointestinal tract. The facility has a team of highly experienced gastro surgeons who have international training and practice experience in their careers.
Services & Facilities:
500 bedded hospital
Intensive Care Unit of 70 beds
225 bedded Critical Care Unit
Specialties:
Inflammatory Bowel Disease
Irritable Bowel Syndrome
Esophageal Cancer
Peptic Ulcer
Colon Cancer
Gastric bypass surgery
Endoscopic procedures
Laparoscopic procedures
Minimal access surgeries
Stenting
Stone removal
Awards & Recognitions:
ISO 9001:2000 certified hospital
NABH accreditation
JCI accredited hospital
The team of liver specialists are known to be pioneers of liver transplantation in South Asia
Contact Address:
Max Super Speciality Hospital, 1.2,
Press Enclave Road, Mandir Marg,
Saket, Delhi - 110017
9. Global hospital, Hyderabad
A Parkway Pantai enterprise, Global Hospitals are setting new benchmarks in the medical sector of India. The group has established successful hospitals in Hyderabad, Chennai, Bangalore and Mumbai. The LB Nagar branch is one of the units of the Hyderabad chapter. The Institute of Advanced Gastroenterology & Therapeutic Endoscopy has specialist doctors who routinely deal with disorders of gastrointestinal tract through medication or surgery.
Services & Facilities:
300 bedded facility
Multiple suites of ICUs
Fully-equipped operation theaters
Superior safety measures for patient management
Liver dialysis unit
World-class team of liver transplant specialists, hepatologists, transplant anesthesiologists
Specialties:
Orthotopic transplant
Living donor transplant
Pediatric liver transplant
Adult liver transplant
Cadaver liver transplant
Transplant in acute liver failure
Combined liver-kidney transplant
Split liver transplant
Auxiliary liver transplant
Awards and Recognitions:
NABH certification
First hospital to be recognized for research and development by Government of India
India's recognized Center for Adult & Pediatric Liver Diseases & Transplantation
Contact Address:
Sagar Road, LB Nagar,
Hyderabad - 500 035, Telangana
10. Fortis Hospital, Kolkata
Fortis hospitals are the most acclaimed and accepted medical care providers in India and abroad. The Anandapur facility is spread across 3 lakh sq.ft area. This unit houses best of medical facilities and technologies to provide patients benefits of the same. The gastrointestinal facility is also a popular one as it is preferred by people of Kolkata for getting treatments for gastrointestinal, liver and pancreatic diseases.
Services & Facilities:
400 bedded unit
Separate High Dependency Unit
Endoscopy suite
70 bedded ICU suite
Pneumatic chute system that enables swift transportation of patients
Ambulance facility
Cafeteria
Specialties:
Colonoscopy
Capsule Endoscopy
Splenectomy
Liver Transplant
Gastric Bypass
Awards & Recognitions:
1st hospital in the Fortis group to get Green OT certification
NABH accredited hospital
Received Star in the zone for East India rating in 2014 from AC Nielsen
Contact Address:
730, Anandapur, E.M. Bypass Road,
Kolkata, West Bengal - 700107