Best Gastroenterology Hospitals in Pune
1. Sahyadri Hospitals, Pune
Sahyadri hospital is a well-known health-chain across the State of Maharashtra. The gastroenterology and gastro-surgery units work in sync with each other to provide patients best of care and treatment facilities. Hospital provides diagnostic and treatment facilities for diseases of food pipe, stomach large intestine, small intestine, gall bladder, liver & pancreas.
Services and Facilities:
Total 900 in-patient beds spanning 6 branches
2300 health professionals available to serve patients
Round-the-clock pharmacy
Equipped radiology and diagnostic facilities
Round the clock emergency facilities
Specialties:
Pancreaticoduodenectomy
Esophagectomy
Liver Resection
Colectomy
Low or Ultralow Resections for Rectal Cancer
Inflammatory Bowel Disease (IBD)
Irritable Bowel Syndrome (IBS)
Diagnostic & Therapeutic Upper Gastrointestinal Endoscopy
Diagnostic & Therapeutic Lower Gastrointestinal Endoscopy Colonoscopy
G.I. Physiology & Motility Studies
Awards and Recognitions:
Recognized as the "Best Asian Healthcare Brand" by Economic Times
National Accreditation Board for Hospitals & Healthcare Providers (NABH) accreditation
Among 4 Indian hospitals to be granted accreditation by The Association for the Accreditation of Human Research Protection Programs (AAHRPP)
ISO 15189:2007 and National Accreditations Board for Testing & Calibration Laboratories (NABL) accredited pathology labs
Contact Address:
1.Sahyadri Hospital Kothrud
Plot No. 9 B, Neena Society, S.No.1484A/B,
Paud Road, Opp. Vanaz Factory, Kothrud,
Pune – 411 038, Maharashtra, India
2. Sahyadri Hospital Hadapsar
G & G Towers, S.No. 153/A,
Hissa No. 124 / 21, Magarpatta,
Pune-Solapur Road, Hadapsar
Pune – 411 028, Maharashtra, India
3. Sahyadri Hospital Bibwewadi
Plot No. 13 S. No. 573, City No.281
Swami Vivekananda Marg, Bibwewadi
Pune – 411 037, Maharashtra, India
4. Sahyadri Speciality Hospital Nagar Road
Near Hermes Heritage, Shastri Nagar,
Nagar Road, Yerawada
Pune 411006, Maharashtra, India
5. Surya Sahyadri Hospital
1317, Kasba Peth, Near Shaniwar Wada,
Pune 411011, Maharashtra, India
6. Sahyadri Speciality Hospital Deccan Gymkhana
Plot no.30 – C, Erandwane, Deccan Gymkhana,
Pune 411004, Maharashtra, India
Book an Appointment

2. Columbia Asia Hospital, Kharadi
Columbia Asia hospital is an advanced multi-specialty that provides world-class medical interventions to patients. The infrastructural facilities and medical personnel are comparable only to the best in the medical world. The Gastroenterology and Hepatology Department collectively handles cases of patients that suffer from disorders of liver, pancreas, gallbladder, stomach and intestine.
Services and Facilities:
100 patient beds
Weight loss clinic
Treatments available for adults as well as pediatric patients
24X7 laboratory
Equipped ICU
Round the clock emergency and radiology facilities
Specialties:
Diagnostic Gastroscopy and Colonoscopy
Balloon Enteroscopy
ERCP (Endoscopic Retrograde Cholangiopancreatography)
Therapeutic Endoscopy
Liver Biopsy
Placement of Feeding Tubes – Gastrostomy (PEG) and Jejunostomy Tubes
Transjugular Intra hepatic Porto systemic Shunts (TIPS)
Trans-arterial chemotherapy
Awards and Recognitions:
Contact Address:
#22/2A, Near Nyati Empire,
Kharadi Bypass Road, Kharadi,
Pune - 410 014
Book an Appointment

3. Jehangir Hospital, Sassoon Road
Jehangir hospital is a multi-disciplinary medical facility. It is still frequented by multiple generations of Pune residents. The Sassoon road facility has superior imaging and surgical facilities for treating gastroenterological disorders. The department has qualified consultants that have extensive experience in treating cancers of liver, pancreas, gallbladder and other organs in the digestive system.
Services and Facilities:
350 patients bed
Obesity Clinic
Jehangir Comprehensive Obesity Screening
Specialties:
Diagnostic & Therapeutic Endoscopic Ultrasound (EUS)
Cancer Management of Food Pipe, Stomach, Gallbladder, Pancreas
Inflammatory Bowel Disease Management
Advance Therapeutic ERCP
Acid Reflux
Awards and Recognitions:
NABH accreditation
ISO 9001 certification
NABL accredited laboratories
Contact Address:
32, Sassoon Road, Near Pune Station,
Pune, Maharashtra - 411001
4. Aditya Birla Memorial Hospital, Thergaon
A brainchild of an acclaimed industrialist, this hospital is the best-in-town facility owing to its superior infrastructure. It provides world-class treatment facilities for curing diseases in patients belonging to a wide spectrum of medical disciplines. The Gastro Sciences Department looks after surgical and diagnostic aspect of gastrointestinal tract, digestive system and the organs that aid in digestion. The department is handled by experts like gastroenterologists, endoscopists, minimal access surgeons and hepatologists.
Services and Facilities:
500 patient beds
152 ICU beds
13 state-of-the-art operation theaters
Advanced pathological and radiological testing services
Telemedicine facility
Specialties:
Surgical Gastroenterology
Medical Gastroenterology
Diagnostic & Therapeutic Endoscopy
Pediatric Gastroenterology
Minimal Access Surgery / Laparoscopic Surgery
Gastro-intestinal Interventional Radiology
Gastrointestinal Cancer
Awards and Recognitions:
National Accreditation Board for Hospital (NABH) accreditation
National Accreditations Board for Testing & Calibration Laboratories (NABL) accreditation
First hospital in the State of Maharashtra to be accredited by Joint Commission International, USA
First ever Indian hospital to be certified with an Hazard Analysis Critical Control Point (HACCP) rating
ISO:22000:2005 certified multi-specialty hospital
CAP certification
Have been health-care partners with Puneri Paltan team in Pro-kabaddi league
Contact Address:
Aditya Birla Marg,
Chinchwad, Pune - 411033
5. Ruby Hall Clinic, Sassoon Road
The name Ruby Hall is synonymous to dependable and superior health-care. Over the years, the hospital has set high benchmarks for their competitors in the medical sector. The hospital has been able to gain credibility and an iconic status because of its commendable medical force and infrastructural facilities. The Department of Gastroenterology offers a wide spectrum of medical facilities and surgeries for every disorder.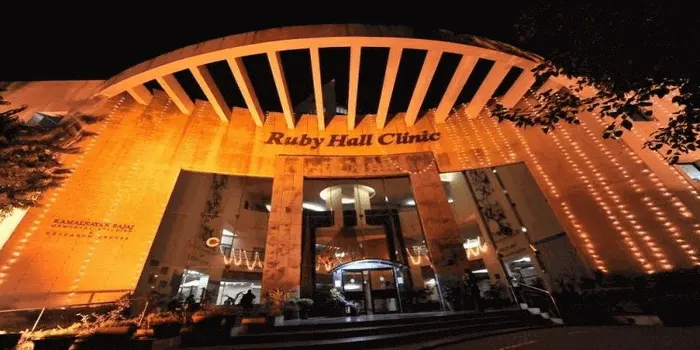 Services and Facilities:
550 patient beds
State-of-the-art endoscopic suites
Advanced operation theaters equipped with C-arm technologies
Blood bank and other emergency facilities
Specialties:
Biopsy of Upper GI Tract
Sclerotherapy
Variceal Ligation for Esophageal Varices (EVL)
Glue Injection for Gastric Varices
Foreign Body Removal from Upper GI Tract
Hemoclipping, Injection Tamponade for Bleeding Gastric and Duodenal Ulcer
Nasojejunal Tube Placement
Surgery for Morbid Obesity
Polypectomy
Weight Loss Management
Chronic Liver Disease Management
Liver Transplant
Awards and Recognitions:
Pune's first NABH accredited hospital
Contact Address:
40, Sassoon Road, Pune,
Maharashtra - 411001
Book an Appointment

6. Inamdar Multispeciality Hospital, Fatima Nagar
Inamdar Multispeciality Hospital in Fatima Nagar is a reputed medical care facility in Pune. It has successfully set shop in the city and has managed to make itself indispensable for people staying in areas surrounding Fatima Nagar.
Services and Facilities:
120 patient beds
Capsule Endoscopy
Equipped ICU
Round the clock ambulance
Facility of home nursing available
Specialties:
Abdominal Gastroenterology
Anorectal Disorders
Bezoars & Foreign Bodies
Diverticular Disease
Esophageal Disorders
Gastric & Peptic Disorders
Gastroenteritis
GI Bleeding
GI Diagnostics
Hepatic Disorders
Inflammatory Bowel Disease
Irritable Bowel Syndrome
Lower GI Complaints
Malabsorption Syndrome
Nutrition
Pancreatitis
Tumors of the GI Tract
Upper GI Complaints
Awards and Recognitions:
Acclaimed to render treatments of highest quality in Pune
A regular amongst top hospitals from Pune ranking
Contact Address:
Hospital Building S. No, 15,
Fatima Nagar, Pune
7. Noble Hospital, Hadapsar
Noble Hospital in Hadapsar is an advanced multi-specialty. It aims to provide all-round medical care to patients using their superior treatment technologies. The department of gastroenterology provides comprehensive treatment facilities that include diagnostic testing, diet counseling, surgical intervention. The consultants have expertise in treating bowel disorders, acid reflux, constipation, jaundice, pancreatic disorders, obesity etc.
Services and Facilities:
341 patient beds
Bureau Veritas certified operation theaters
Equipped ICU with 10 beds
Round the clock emergency care available
Evidence based medicine practices
Specialized bariatric surgery procedures available
Specialties:
Surgical Gastroenterology
Fistula and Perianal Disease
Cancers of Biliary System or Pancreas
Gastroenterological Cancers
Lower Gastrointestinal Tract Disorders
Diagnostic & Therapeutic Endoscopic Ultrasound-(EUS)
Pancreatitis
Obesity Treatment
Hepatic Disorders
Diagnostic & Therapeutic Single Balloon Enteroscopy
Bariatric Surgery
Awards and Recognitions:
NABH accreditation
ISO-9001 certification
Contact Address:
153, Magarpatta City Road,
Hadapsar, North Hadapsar,
Hadapsar, Pune, Maharashtra
Book an Appointment