Best Neurology hospitals in Pune
1. Jehangir Hospital, Sassoon Road
Jehangir hospital near Sassoon road is one of the many distinguished medical facilities Pune is blessed with. It has all modern facilities and equipment to help patients get back to their old routine life. The neurology and neurosurgery wing collectively manage patients suffering from nervous system disorders, brain disorders, headache, spinal diseases etc.
Services and Facilities:
350 bedded hospital
Jehangir Wellness Center
Stroke Clinic
Equipped ICU
Round-the-clock critical care services
Equipped pharmacy
24X7 emergency services
Ambulance facilities
Specialties:
Microsurgery for Brain Tumors
Endoscopic Brain Surgery
Skull Base Surgery
Brain Trauma Surgery
Congenital Cranial Deformity
Stereotactic Brain Surgery
Craniofacial Surgery with FMS (Facio-Maxillary Surgery)
Brain Surgery for Abnormal Blood Vessels
Brain Surgery for Epilepsy
Brain Surgery for Removal of Blood Clots
Interventional / Neuro-endovascular Therapy for Cerebro-vascular Diseases and Tumors
Pre-operative Embolization of Brain Lesions
Awards and Recognitions:
NABH accreditation
ISO 9001 certification
NABL accredited laboratories
Contact Address:
32, Sassoon Road, Near Pune
Station,Pune, Maharashtra - 411001
2. Sahyadri Hospitals, Pune
Sahyadri hospitals covering Pune city house 900 patient beds collectively. This group was founded by Dr. Charudutta Apte, a renowned neurosurgeon. The hospitals have acclaimed neurosurgeons and neuro-specialists attached to it. The neurosurgery department is equipped with best-in-class technology for treating a variety of neuromuscular disorders, migraine, headache, epilepsy and disorders of peripheral nerves.
Services and Facilities:
900 in-patient beds
200 ICU beds
Neuronavigation
Portable CT scanner
Headache clinic
Dementia clinic
Epilepsy clinic
Parkinson's and stroke clinic
Round-the-clock pharmacy, emergency, radiology and diagnostic services
Specialties:
Surgeries for Deep Seated Brain Tumors
Computer-assisted Stereotactic Surgery
Awake Craniotomy
Computer-assisted Surgery for Spinal Disorders
Pediatric Neurosurgery
Surgeries for Cerebrovascular Disorders
Surgery for Pituitary Tumors
Ozone Therapy
Movement Disorder Surgery
Epileptic Treatments
Peripheral Nerve Surgery
Child and Adolescent Neurology
Autism
Metabolic Brain Disorders
Awards and Recognitions:
Recognized as the "Best Asian Healthcare Brand" by Economic Times
National Accreditation Board for Hospitals & Healthcare Providers (NABH) accreditation
Among 4 Indian hospitals to be granted accreditation by The Association for the Accreditation of Human Research Protection Programs (AAHRPP)
ISO 15189:2007 and National Accreditations Board for Testing & Calibration Laboratories (NABL) accredited pathology labs
Contact Address:
1. Sahyadri Hospital Kothrud
Plot No. 9 B, Neena Society, S.No.1484A/B,
Paud Road, Opp. Vanaz Factory, Kothrud,
Pune – 411 038, Maharashtra, India
2. Sahyadri Hospital Hadapsar
G & G Towers, S.No. 153/A,
Hissa No. 124 / 21, Magarpatta,
Pune-Solapur Road, Hadapsar
Pune – 411 028, Maharashtra, India
3. Sahyadri Hospital Bibwewadi
Plot No. 13 S. No. 573, City No.281
Swami Vivekananda Marg,
Pune – 411 037, Maharashtra, India
4. Sahyadri Speciality Hospital Nagar Road
Near Hermes Heritage, Shastri Nagar,
Nagar Road, Yerawada
Pune 411006, Maharashtra, India
5. Surya Sahyadri Hospital
1317, Kasba Peth, Near Shaniwar Wada,
Pune 411011, Maharashtra, India
6. Sahyadri Speciality Hospital Deccan Gymkhana
Plot no.30 – C, Erandwane, Deccan Gymkhana,
Pune 411004, Maharashtra, India
Book an Appointment

3. Columbia Asia Hospital, Kharadi
Columbia Asia is a highly dependable health chain having established its commendable presence in India in metropolitan cities like Delhi, Kolkata, Ahmedabad and Bangalore. The facility at Kharadi, Pune has highly-experienced neurosurgeons and experts from the field to treat patients suffering from diseases of nervous system, brain and spinal cord. Patients suffering from serious disorders like epilepsy, seizure, dementia etc. are rest assured to get the best of medical treatments and care.
Services and Facilities:
100 bedded unit
Neurophysiology unit
Physiotherapy and occupational therapy
Teleradiology services available
Round-the-clock ambulance available
24x7 emergency and laboratory services
Specialties:
Seizure and Stroke Management
Treatment of Movement Disorders
Parkinson's, Dementia and Headache Treatment
Pediatric Neurosurgery
Spinal Surgeries
Brain Tumor Surgeries
Endoscopic Neurosurgery
Awards and Recognitions:
Contact Address:
#22/2A, Near Nyati Empire,
Kharadi Bypass Road, Kharadi,
Pune - 410 014
Book an Appointment

4. Inamdar Multispeciality Hospital, Fatima Nagar
Inamdar Multispecialty is a multi-disciplinary unit catering to treatment facilities across different medical streams. Inamdar Hospital Neuroscience Program handles patients suffering from multiple sclerosis, headache, migraine, epilepsy, neuromuscular and peripheral nerves disorders.
Services and Facilities:
Stereotactic Neurosurgery Technology
Carotid Ultrasounds
Lumbar Punctures
Electroencephalograms (EEGs)
MRI Brain/Spine
MR Venogram Brain
MR Angiography Brain
CT Scan Brain
Brainstem Auditory Evoked Responses
Nerve Conduction Studies
Visual Evoked Potentials
Specialties:
Muscular Dystrophy
Intracranial surgery
Epileptic seizure management
Spinal bone fusion
Craniotomy
Spinal disc replacement
Brain tumor surgery
Awards and Recognitions:
Regularly ranked among the best Pune hospital list
Recognized for its high standards and quality treatments
Contact Address:
Hospital Building S. No,
15, Fatima Nagar, Pune
5. Aditya Birla Memorial Hospital, Thergaon
Aditya Birla Memorial Hospital serves residents of Pimpri Chinchwad, Thergaon and people residing in surrounding hamlets and villages. It houses modern and highly-updated treatment technology for treating patients suffering from every major and minor health concern. The neurosciences unit is helmed by neurology and neurosurgical experts.
Services and Facilities:
500 bedded hospital
152 ICU beds
13 state-of-the-art operation theaters
Laboratory testing services
Specialties:
Spinal and Disc Surgeries
Nerve Stimulation
Epilepsy Treatment
Electroencephalogram
Intraoperative Electrophysiology Monitoring
Evoked Potential Studies
Migraine
Meningitis
Multiple Sclerosis Therapies and Thrombolysis Treatment
Awards and Recognitions:
National Accreditation Board for Hospital (NABH) accreditation
National Accreditations Board for Testing & Calibration Laboratories (NABL) accreditation
First hospital in the State of Maharashtra to be accredited by Joint Commission International, USA
First ever Indian hospital to be certified with an Hazard Analysis Critical Control Point (HACCP) rating
ISO: 22000:2005 certified multi-specialty hospital
CAP certification
Have been health-care partners with Puneri Paltan team in Pro-kabaddi league
Contact Address:
Aditya Birla Marg,
Chinchwad, Pune - 411033
6. Sancheti Hospital, Shivajinagar
Sancheti Hospital is a highly acclaimed medical unit devoted to orthopedic and neurological discipline. It houses world-class treatment facilities for people suffering from abnormalities of brain, spine and nerves. It houses treatment facilities for complex neurological conditions with the help of cutting edge technology and highly-qualified surgeons.
Services and Facilities:
Neuro Rehabilitation Unit
Electroencephalography (EEG)
Electromyography (EMG)
Nerve Conduction Studies (NCS)
Speech Therapy
Bone Density scan
Specialties:
Epilepsy Management
Migraine
Meningitis
Stroke Management
Spinal Abnormalities
Awards and Recognitions:
Contact Address:
11/12 Thube Park, 16,
Shivajinagar, Pune - 411005
7. Ruby Hall Clinic, Sassoon Road
An acclaimed medical facility in the City of Pune, Ruby Hall Clinic is a jewel true to its name. It has been serving citizens of Pune since multiple decades. The hospital has been credited to have started the first air ambulance facility for patients in Pune. The neurosurgery, neurology and neuro-trauma departments are established for handling patients suffering from stroke, epilepsy, dementia, vertigo and a host of other nervous system disorders.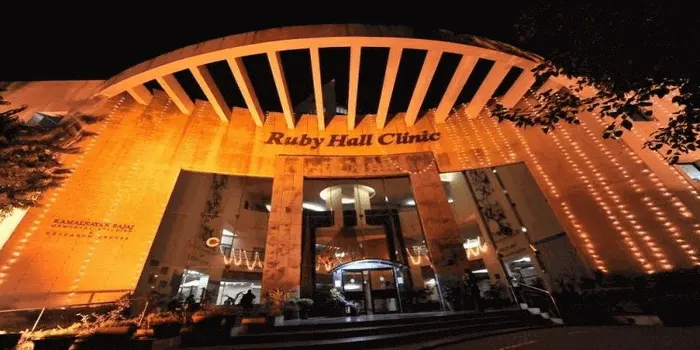 Services and Facilities:
550 patient beds
15 bedded High Dependency Care Unit (HDU)
2 operation theaters dedicated for neurological surgeries
Blood bank facilities
Speech Therapy
Neuro Trauma Stroke Unit
Neuro Rehabilitation facility
Electroencephalography (EEG)
Brainstem Auditory Evoked Responses (BAER)
Somatosensory Evoked Potentials (SSEP)
Nerve Conduction Studies (NCS)
Neuropathology
Specialties:
Stereotactic Surgeries
Neurology
Neurosurgery
Brain AVMs and Tumor Management
Spinal Tumors and Spinal Dysraphism
Awards and Recognitions:
Pune's first NABH accredited hospital
Contact Address:
40, Sassoon Road, Pune,
Maharashtra - 411001
Book an Appointment

8. Noble Hospital, Hadapsar
Noble hospital is at the forefront of providing reliable health-care to people of different strata of society. The hospital has modern and updated technological support that helps patients get proper medical care and intervention. The department of neurosurgery forms a prominent part of the hospital and is known to have performed 3000 successful brain and spine surgeries till date. It has superior imaging facilities as well that are requisite in performing complex neurological operations.
Services and Facilities:
250 patient beds
Bureau Veritas certified operation theaters
Neurointensive Care unit
Intervention Neuroradiology lab
128 Slice CT
Specialties:
Neurovascular Disorder Management
Stroke Treatment
Movement and Balance Disorder Management
Pediatric Neurology
Spinal Fusion
Awards and Recognitions:
NABH accreditation
ISO-9001 certification
Contact Address:
153, Magarpatta City Road,
Hadapsar, North Hadapsar,
Hadapsar, Pune, Maharashtra
Book an Appointment

9. AIMS Hospital, Aundh
Aundh Institute of Medical Sciences (AIMS) hospital is a multi-specialty catering to treatment facilities belonging to different medical streams. There are acclaimed consultants attached to this hospital for patient management. They strive to provide best-in-class medical care to each and every patient coming to them with their health worries. The AIMS center for neurosurgery is helmed and managed by consultants with a lot of expertise in this field. Patients suffering from diseases and disorders of spinal cord, brain, nerves and muscles experience relief because of expert neurological care in this hospital.
Services and Facilities:
101 beds
5 operation theaters
16 bedded ICU
Full-spectrum of diagnostic facilities
24*7 running accident and emergency center
Specialties:
Neurology
Neurosurgery
Neurotrauma
Pediatric Neurology
Spinal and Brain Disorder Management
Skull Base Surgery
Pituitary Surgery
Cerebral Angiography
Awards and Recognitions:
Youngest Green Operation Theater Accredited Hospital in Pune
NABH accredited hospital
Contact Address:
Near AIMS Square, Aundh, Pune,
Maharashtra, - 411007
Book an Appointment