Best Cancer Hospital in Delhi/NCR
1. Indraprastha Apollo Hospital, Delhi
Apollo Cancer Institute at Indraprastha Apollo Hospital is among the top oncology centers in Delhi NCR. It offers comprehensive health care using latest technologies and tools. This institute utilizes advanced methodologies like robotic assisted operations for complex oncological surgeries with three dimensional imaging techniques.
Services and Facilities:
Spread across 600,000 square feet campus
695 bedded hospital facility, can be extended up to 1000 bed capacity
24 hours of facilities offered by pharmacy center
Best-in-class medical technologies such as da Vinci Robotic Surgery, Endosonography, BrainLab Navigation System, Fibroscan, etc. for interventional, surgical and diagnostic purposes.
Laboratories operational round the clock
High Dose Rate (HDR) Brachytherapy available for gynecology cancer treatment
Exclusive International lounge providing airport transfers, accommodation services, visa assistance, coordination to medical appointments, mobile SIM cards, suitable options for cuisine, international staff translators, etc.
Specialties:
Medical Oncology
Radiation Oncology
Robotic Cancer Surgery
Hematology
Interventional Oncology
Pediatric Oncology
Therapeutic Oncology and Rehabilitation
Awards and Recognitions:
First JCI accredited medical center in India
NABL accredited clinical labs
NABL accredited Blood Bank center
Address:
Indraprastha Apollo Hospital,
Delhi Mathura Road, Sarita Vihar,
New Delhi, Delhi - 110076
Book an Appointment
2. Medanta - The Medicity, Gurgaon
Working on the principle of three Cs - Compassion, Care and Commitment, Medanta The Medicity is among the most recognized healthcare center across Delhi & NCR region. The center of cancer care is full fledged with state-of-art technological systems to render comprehensive healthcare services to its patients. This center provides both traditional and advanced oncology procedures to treat, prevent and manage all types of cancer.
Services and Facilities:
More than 1600 bed capacity
300 bed capacity of intensive care unit
Full-scaled 39 operating theaters
Critical care unit comprising of 30 bed capacity
Cross functional units operational within the campus for patients
24 hours on-board to on-ground communication service
Air ambulance available for distantly located patients
1:1 Patients to nurse ratio in the critical care units
Ultrasonography, trans-esophageal echo and trans-thoracic echo facilities available round the clock for diagnostic & interventional oncology procedures
Exclusive e-clinics offering telemedicine facilities
Specialties:
Medical Oncology
Surgical Oncology
Radiation Oncology
Radiology
Therapeutic Oncology
Hematology
Rehabilitation
Onco Anesthesiology
Awards and Recognitions:
JCI accredited hospital
NABH accredited healthcare center
NABH accredited blood banks
Laboratories accredited under NABL healthcare standards
Address:
Medanta - The Medicity, Sector - 38,
CH Bakhtawar Singh Road,
Islampur Colony, Near Rajiv Chowk,
Gurgaon, Haryana - 122001
3. BLK Super Speciality Hospital, Rajinder Nagar
BLK Super Speciality Hospital comprises of one of the hallmarked centers for cancer care across Delhi NCR. The BLK Cancer Center provides a complete circle of treatment and therapy procedures to rescue patients suffering from cancer and its associated problems. Using leading technologies and systematic approaches, it ensures best quality care to prevent and cure cancer.
Services and Facilities:
650 bed capacity
Intensive care unit equipped with 125 bed capacity
17 operating rooms with state-of-art modular systems
60 rooms exclusively available for consultation
Exclusive CyberKnife Center within the same campus
Round the clock services such as endoscopy, CRRT, bronchoscopy and SLED available
Wifi-enabled, paper less facility system utilized within the entire campus (first in the country)
Tumor Board Speciality Clinic infrastructured for all types of oncology procedures
Specialties:
Medical Oncology
CyberKnife VSI
Oral Cancer Treatment
Gynec Oncology
Breast Cancer Unit
Brain & Spinal Cord Cancer Center
Radiation Oncology
HIPEC Technology Lab
Chemotherapy Room
Head & Neck Cancer Center
GI & Thoracic Surgery
Interventional Oncology
Therapeutic Oncology
Minimal Access Onco Surgery
Awards and Recognitions:
NABH accredited institute
Labs accredited under NABL standards
Address:
BLK Super Speciality Hospital,
Building No. 5, Pusa Road,
Rajinder Nagar, New Delhi,
Delhi - 110005
Book an Appointment
4. Artemis Hospital, Gurgaon
The Cancer Center of Artemis Hospital is a renowned healthcare destination in Delhi NCR. It offers multi-disciplinary cancer care with the best technological interventions and methods to those in need. This center is connected to the nuclear medicine department for oncological imaging and therapy purposes.
Services and Facilities:
9 acres hospital campus
380 beds capacity
24 hours of operational emergency and accident care departments
Equipped with ultra modern 3 Tesla MRI systems
Cancer center full fledged with technological systems such as mammography, 16 slice PET CT Scan, etc
High-end Color doppler ultrasound systems available for diagnostic, radiology and interventional purposes
Radiation oncology department consists of image guided radiation therapy (IGRT) systems available
Specialties:
Clinical Oncology
Surgical Oncology
Minimal Invasive Onco Surgery
Therapeutic Oncology & Rehabilitation
Radiation Oncology
Interventional Oncology
Pediatric Oncology
Hemato-Oncology
Geriatric Oncology
Neuro-Oncology
Nursing Oncology
Awards and Recognitions:
First hospital in Gurgaon to achieve JCI accreditation
NABH accredited center, first in NCR region
Address:
Artemis Hospital, Sector 51,
Gurgaon, Haryana - 122001
Book an Appointment
5. Max Institute of Cancer Care, Lajpat Nagar
Max Institute of Cancer Care is full fledged with a multitude of best diagnostic, therapeutic, clinical and surgical procedures to render comprehensive cancer care to its patients. It also offers non hospital environment facilities with effective care and personalized treatment options. It consists of a sub part called 'Disease Management Group,' exclusively composed to help patients handle oncology and its symptoms individually well.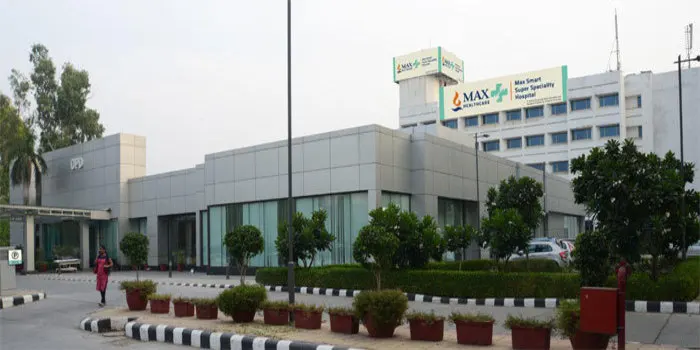 Services and Facilities:
Specialized unit for chemotherapy comprising of 12 chemo chairs
3 full-scaled patient beds
Technologically infrastructured lab units and radiology division
da Vinci Xi robotic surgical systems to treat complicated oncology operations and complex heart tumor conditions
Facilities of radio surgery procedures available
Diagnostic and interventional oncology units designed with 3D vision system
Virtual tour of the entire hospital campus is available for international patients
Specialties:
Medical Oncology
Surgical Oncology
Radiation Oncology
Interventional Oncology
Therapeutic Oncology
Advanced & Laparoscopic Surgical Oncology
Clinical Physiology
Rehabilitation & Nutrition
Awards and Recognitions:
Accredited NABH center
ISO accredited center of excellence
NABL accredited laboratories
NABH accredited blood bank
Address:
Max Institute of Cancer Care, 26A,
Second Floor, Ring Road, Lajpat Nagar,
New Delhi, Delhi - 110024
6. Fortis Memorial Research Institute, Gurgaon
The oncology care center of Fortis Memorial Research Institute offers a gamut of cancer care services and facilities with a best team of medical and surgical oncologists in the Delhi and NCR cities. It offers personalized care facilities right from preventive measures, treatments, diagnosis and therapies to help patients fight cancer in a better way. It utilizes highest quality of treatment facilities, advanced systems, latest methodologies for complete cancer care services.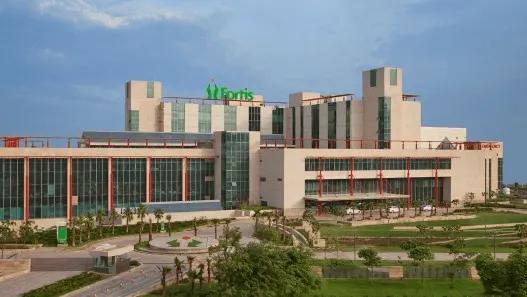 Services and Facilities:
1000 beds capacity
Labs operational 24/7
Speciality clinics available for cancer therapy and post operative procedures
Ultra modern and advanced diagnostic cancer institutes with PET scan, MRI and Biopsy procedure facilities
Utilizes breath-hold 4D treatment options in the Radiation Oncology department
Image guided radiotherapy (IGRT) and intensity modulated radiotherapy (IMRT) services available
Specialties:
Medical Oncology
Surgical Oncology
Radiation Oncology
Gynec Oncology
Nuclear Medicine and Pathology
Robotic Cancer Surgery
Surgical Oncology – Head, Neck & Thorax
Advanced & Laparoscopic Oncology Surgery
Awards and Recognitions:
Blood Banks accredited under NABH standards
JCI accredited medical institute
NABH accredited
Lab centers accredited under NABL standards
ISO certified center
Address:
Fortis Memorial Research Institute,
Sector 44, Opposite HUDA City Center,
Gurgaon, Haryana - 122002
Book an Appointment
7. Moolchand Cancer Hospital, Lajpat Nagar
Moolchand Cancer Hospital is one of the proficient medical institutions that services a wide range of procedures to help patients fight against oncology and its associated issues. It is constructed with advanced and latest technological innovations in order to provide the best to its patients. Esteemed panel of oncologists, surgeons, intensivists and other hospital staff are well qualified and trained to render best-in-class treatment and therapy procedures.
Services and Facilities:
300 hospital bed capacity
Round the clock services by the critical care division
Exclusive clinical specialities available for cancer screening
Speciality clinics for counseling of various types of cancers to patients and their family
Emergency service provisions 24/7
Trauma help support team operational round the clock
Cancer diagnostic, radiology lab centers full fledged with technological base and systems
Specialties:
Medical Oncology
Surgical Oncology
Advanced and Laparoscopic Cancer Surgery
Interventional Oncology
Genitourinary Cancer Surgery
Gynecological Cancer Surgery
Lung Cancer Surgery
Preventive Oncology
Radiation Oncology
Awards and Recognitions:
JCI accredited medical center
NABH accredited center
Certified under ISO 9001:2000 standards
Address:
Moolchand Medcity, Lajpat Nagar - III,
New Delhi, Delhi - 110024
8. Columbia Asia Hospital, Gurgaon
Columbia Asia Hospital is one of the finest institutions in the health-care sector. This hospital is well recognized for its medical oncology and surgical oncology centers. It offers quality screening, treatment and surgical procedures with a set of best team of doctors to ensure a complete health-care package to patients suffering from cancer.
Services and Facilities:
90 hospital beds
Speciality outpatient clinic available for various types of cancer processes
24/7 functional laboratories
24/7 functional blood banks and pharmacy centers within the same campus
Ambulance services available round the clock
Radiology cancer centers and endoscopy centers operational 24 hours a day
Special system of centralized sterilization connecting all the departments
Telemedicine and teleradiology services available
Emergency units, critical care units and operating theaters operational 24/7
PSA testing available for patients suspicious of prostate cancer disease
PAP tests designed for cervical cancer patients
Digitalized Mammography procedures for breast cancer patients
Digitized radiography for radiology and interventional oncology available
Specialties:
Clinical Oncology
Pediatric Oncology
Radiation Oncology
Surgical Oncology
Interventional Oncology
Conventional Radiology
Preventive Cancer
Therapeutic Oncology & Rehabilitation
Minimally Invasive Surgical Oncology
Awards and Recognitions:
Accreditation achieved by NABH health-care standards
Address:
Columbia Asia, Block F,
Gol Chakkar, Near Ansal Plaza Mall,
Palam Vihar, Gurgaon, Haryana - 122017
Book an Appointment