Best Diabetes Hospitals in Chennai
1. Apollo Hospital, Greams Road
Apollo Hospital on Greams road is the flagship facility of Apollo Hospital group. The facility is a highly-equipped one, having modern technological support to help doctors treat patients from any illness. The diabetes facility has experienced diabetologists and endocrinologists who have a lot of experience in dealing with diabetic complications.
Services and Facilities:
Dialysis facilities
Hyperbaric Oxygen Therapy
Blood Glucose Testing
Insulin administration
Specialties:
Endocrinology
Vision Correction
Kidney Problems
High Blood Pressure Management
Diabetes Insipidus
Gestational Diabetes Management
Awards and Recognitions:
Winner of All India Critical Care Hospital Survey 2017 conducted by Times Health
First hospital in South India to have received HACCP certification by the British Standards Institution
Hospital also certified by Joint Commission International (JCI)
Contact Address:
21, Greams Lane, Off Greams
Road, Chennai - 600 006
Book an Appointment
2. Dr. Mohan's Diabetes Specialities Center, Chennai
Dr. Mohan's Diabetes Specialities Center was launched in September 1991. Since then, it has scaled newer heights in the form of centers in Andhra Pradesh, Bhubaneshwar, Telangana and other nearby states. It has multiple branches for Chennai residents as well.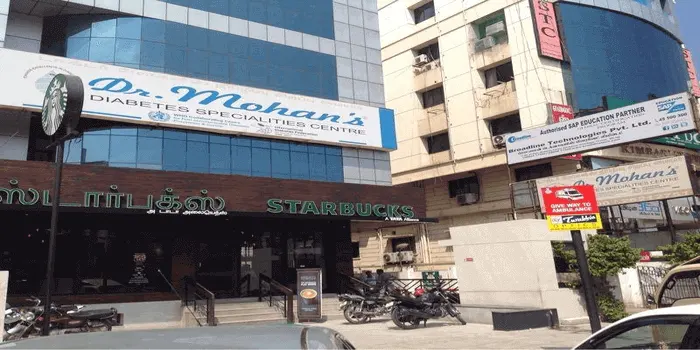 Services and Facilities:
8 bedded ICU
Glycemic Index Testing
Diabetes Obesity Center
Chiropody
Foot Examinations
Pediatric Diabetic Clinic
Diabetic Physiotherapy
Specialties:
Cataract Surgery
Management of Dental Issues in Diabetics
Gastric Surgeries
Gestational Diabetes Mellitus
Awards and Recognitions:
NABH accreditation
The center has the world's first ISO 9001:2008 certified diabetes laboratory
Contact Address:
No.6-B, Conron Smith Road,
Near Satyam Cinemas, Gopalapuram,
Chennai, Tamil Nadu - 600086.
3. Billroth Hospitals, Shenoy Nagar
Billroth Hospital in Shenoy Nagar is a 600 bed multi-specialty. It caters to treatments of varied diseases and disorders in children and adults. The diabetes department is handled by experienced diabetologists, dietitians, diabetes educators, podiatrists, eye specialists and other specialists. The department believes in early diagnosis and control of blood sugar levels in people who have family history of diabetes.
Services and Facilities:
600 patient beds
Diabetic testing
Dialysis administration
Physiotherapy
Lab collection facility
Specialties:
Diabetes Treatments
Endocrinology
Hormonal Disorder Treatments
Endocrine Tumors
Awards and Recognitions:
Accredited by National Accreditation Board for Hospitals & Health-care Providers (NABH)
Laboratories in the hospital are accredited by National Accreditation Board for Laboratories (NABL)
Contact Address:
Billroth Hospitals, 43,
Lakshmi Talkies Road,
Shenoy Nagar, Chennai - 30.
4. Vijaya Group of Hospitals, Vadapalani
Vijaya Group of Hospitals is a 750 bedded facility. It hosts superior treatment and diagnostic facilities for every medical discipline. The Diabetology and Endocrinology department is helmed by specialist doctors available for every kind of health emergency of patients coming to them.
Services and Facilities:
750 in-patient beds
9 state-of-the-art operation theaters
Foot clinic
Equipped pathology and radiology services
Pharmacy available
Blood bank
Specialties:
Hormonal Disorders
Diabetic Foot
Reproductive Disorders
Macular Degeneration
Metabolic Disorders
Diabetes
Diabetic Neuropathy
Awards and Recognitions:
NABH accreditation
NABL certification
Contact Address:
No.434, N.S.K. Salai, Vadapalani,
Chennai - 600026
5. SIMS Hospital, Vadapalani
SIMS Hospital in Chennai is touted as the fastest growing multi-super speciality tertiary care hospitals in India. The hospital has a dedicated department for helping international patients in getting medical aid along with visa assistance. SIMS Vadapalani is considered among the best hospitals for diabetes treatments. Patients suffering from diabetes are offered treatments, customized diet plans and diabetic counselling and education. That helps clear the patients' minds off doubts and fears.
Services and Facilities:
Diabetology clinic
Continuous glucose monitoring
Home sample collection facility
Round the clock ambulance services
Equipped blood bank
Specialties:
Endocrine Oncology
Reproductive Endocrinology
Adolescent Endocrinology
Pediatric Diabetes
Metabolic Bone Disease
Diabetes and Oral Health Care
Preventive Cardiology and Nephrology
Diabetes Foot Care
Awards and Recognitions:
Known to have pioneered the use of latest, modern and innovative technology in Chennai
Contact Address:
SIMS Hospital - Vadapalani, Chennai
(Next to Vadapalani Metro Station) No.1,
Jawaharlal Nehru Salai (100 Feet Road),
Vadapalani Chennai - 600 026, Tamilnadu, India
6. Prashanth Super Speciality Hospital, Velachery
Prashanth Super Speciality Hospital in Velachery, Chennai is among the finest medical centers currently existing. The hospital has infrastructure that is comparable only to the best. That enables the team of doctors, surgeons and specialists to find precise diagnosis and further line of treatment for patient.
Services and Facilities:
100 in-patient beds
Foot examination
Blood Sugar Examination
Dialysis facility
Well-equipped ICU
Specialties:
Foot Deformity Correction
Gestational Diabetes
Diabetic Neuropathy
Diabetic Nephropathy
Diabetes Education and Counselling
Awards and Recognitions:
Awarded with Meritorious Services in Medicine in 2014 by the Tamil Nadu Government
Contact Address:
No.36 & 36A, Velachery Main Road,
Velachery, Chennai - 600 042
Book an Appointment
SIMS Hospital, Vadapalani
7. MIOT Hospitals, Manapakkam
Madras Institute of Orthopedics and Traumatology (MIOT) is a 1000 bedded multi-speciality in Chennai. It has superior treatment facilities provided under same roof. All the departments are managed by professionals that have practice experience of working in overseas medical sector as well. The hospital gets patients from over 129 countries. The diabetology facility has experts that are well-versed in treating diabetes and diabetic complications in adults and children.
Services and Facilities:
1000 bedded facility
Blood sugar estimation
Retinal photographic documentation
HCP studies
Renal testing
Dialysis and Haemodialysis facilities
Specialties:
Diabetic Retinopathy
Diabetic Neuropathy
Diabetic Foot
Pediatric Diabetes
Awards and Recognitions:
NABH certification
NABL accreditation
5 times winner of BEST SERVICE PROVIDER, SOUTHERN REGION (Gold)
Contact Address:
MIOT International 4/112,
Mount Poonamalle Road Manapakkam,
Chennai - 600 089 Tamil Nadu, INDIA