Best Gynecology Hospitals in Bangalore
1. Cloudnine Hospitals, Bangalore
Cloudnine is a well-known chain of hospitals in South India. It is a health care chain that provides the best care to expecting moms in the pre and post period of pregnancy. They are the industry leaders in gynecological, pediatric and maternal care. Cloudnine has over 11 branches all over Bangalore. The hospitals have expert gynecology consultants and surgeons to deal with all types of health emergencies faced by females from different age groups.
Services and Facilities:
40 in-patient beds
State-of-the-art operation theaters
Cloudnine at home care
Well Women check ups
Pre-marriage counseling
Equipped ambulance
Round-the-clock pharmacy
Specialties:
IVF & Infertility Care
HysterectomyEndometriosis
Fibroids and Polyps Removal
Pap smear testing & Colposcopy
Urinary Incontinence
Prolapse treatment
Premenstrual Syndrome treatment
HPV Vaccination
Contraception treatment
Awards and Recognitions:
Best Health Care Brand (Women & Child) by Economic Times, 2016
Best PE/VC backed Healthcare Company
Benny Award for compensation/benefits in healthcare
Contact Address:
Opposite Kemp Fort (Total Mall),
Old Airport Road,
Bangalore - 560017
2. BirthRight by Rainbow Hospitals, Bangalore
Rainbow hospitals in Marathahalli, Bangalore has gained mass support in South India; all thanks to the highly updated medical infrastructure and medical consultants. The women's health center looks after every type of gynecological issue faced by females of various ages.
Services and Facilities:
Round-the-clock availability of emergency department for dealing with gynecological cases
Intensive Care Unit (ICU)
Equipped laboratory
Ambulance facility
Specialties:
Mammography
Cervical Cancer Screening
Key-hole Surgery techniques used for gynecological treatments
Lactation Consultation
Uro-gynecology
Minimally Invasive Surgeries for Endometriosis, Fibroids, Uterus diseases.
Awards and Recognitions:
ISO 9001:2008 certified Hospital
National Accreditation Board for Hospitals & Health-care Providers (NABH) accredited hospital
Best Hospital of the year for Gynaecology by "Times Healthcare Achievers" for Telugu State, 2017
Contact Address:
Survey No. 8/5, Marathahalli-KR
Puram Outer Ring Road,
Doddanekundi, Marathahalli,
Bengaluru - 560 037.
3. Fortis La Femme, Richmond Town
Fortis la Femme is a unit of the renowned Fortis health chain. The branch offers treatments across gynecology, maternity, cosmetology, general surgery and infertility. The hospital has advanced treatment as well as diagnostic machineries that help gynecologists in early and precise detection of disorders.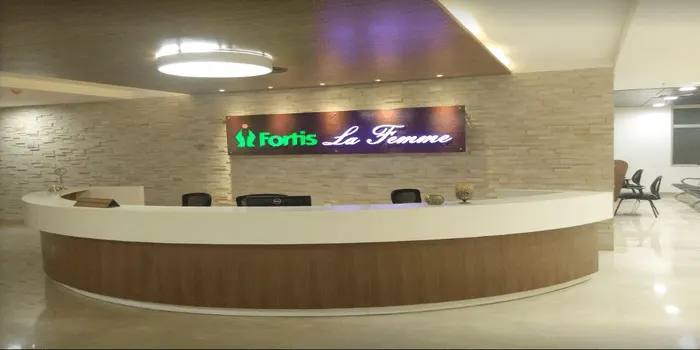 Services and Facilities:
70 hospital beds
24*7 functioning Intensive Care Unit (ICU)
Different rooms available for patients to suit needs
24*7 functional ambulance, blood bank and pharmacy facilities
Library with books related to pregnancy
Specialties:
Menopause and Pre-menstrual Clinic
Adolescent Gynecology
Minimal Access Surgeries
Urogynecology
Diagnostic Gynecology
IVF facilities
Awards and Recognitions:
National Accreditation Board of Hospitals & Health-care Providers (NABH) accreditation
Contact Address:
Fortis La Femme
No. 62, Richmond Road,
Behind Sacred Heart Church,
Entry from Mother Teresa Road,
Richmond Town, Bengaluru 560025.
Book an Appointment

4. Apollo Hospital, Bannerghatta Road
Apollo health-care in Bangalore is a household name for quality healthcare. It is a preferred destination for all medical and health worries of Bangalore residents. The gynecology and obstetrics department has highly-qualified and experienced experts that have been dealing with management of various diseases and disorders women face.
Services and Facilities:
250 hospital beds
4D obstetric ultrasound unit
Antenatal screening facilities
Personalized health check packages
Round-the-clock ambulance, emergency care, pathology lab
Equipped ICU
Specialties:
Urogynecology
Diet Counseling
Laparoscopic Surgeries for treating Infertility, Pelvic Pain, Polyps, Ectopic Pregnancies
Colposcopy
Gynecological Oncology
Palliative Care
Adolescent Care and Menopausal Management
Awards and Recognitions:
Apollo Hospitals has won the award for Most Popular Website in the Health category at the Website of the year India Awards 2014.
JCI accreditation
Contact Address:
154/11, Opp IIM, Bannerghatta Road,
Bengaluru - 560 076, Karnataka, India.
5. Manipal Hospital, HAL Road
Launched in 1991, Manipal Hospitals are a commendable name in the health-care sector across South India. The HAL road facility offers multi-disciplinary care for different health issues suffered by adults and children. The branch has state-of-the-art facilities for dealing with everything from hormonal changes, menopause, puberty issues, reproductive system disorders to gynecological cancers.
Services and Facilities:
600 bed unit
Round-the-clock emergency radiology services
24*7 availability of pharmacy and ambulance services
Infertility center for offering assisted reproduction
Facilities such as, currency exchange, medical visa and medical insurance arranged for international patients
Specialties:
Mammography
Radio-guided Occult Lesion Localization-ROLL
Menopause Management
Cancer Screening
In-Vitro Fertilisation (IVF)
Intra Uterine Insemination (IUI)
Ovarian and Embryo Cryopreservation
Sperm Cryopreservation
Awards and Recognitions:
Accreditation from National Accreditation Board for Hospitals & Health-care Providers (NABH)
Accredited by The Association for the Accreditation of Human Research Protection Programs (AAHRPP)
ISO 9001:2000 certified medical organization
Laboratories certified by National Accreditation for Laboratories (NABL)
Contact Address:
98, HAL Airport Road,
Bengaluru, Karnataka - 560017
Book an Appointment

6. Columbia Asia Referral Hospital, Yeshwanthpur
Columbia Asia Referral Hospital in Yeshwanthpur is part of the Columbia Asia Group. Established in 2008, this hospital is a renowned medical facility dedicated to service of Bangalore residents. The obstetrics and gynecology department is geared with highly advanced treatment technology making it rank among few of the best gynecological hospitals in Bangalore.
Services and Facilities:
160 hospital beds
Highly-equipped and hygienic operation theaters
24*7 working services like blood bank, emergency facilities, laboratory etc.
International standards adopted for treatment methods and hygiene
Specialties:
Digitized Mammography
Infertility Treatment
Management of Thyroid and Hormonal Disorders
Screening and Management of Gynecological Cancers
Multi-disciplinary Care available
Minimally Invasive Hysterectomy
Uro-gynecology
Awards and Recognitions:
NABH accreditation
JCI certification
Contact Address:
26/4, Brigade Gateway,
Beside Metro Cash and Carry West,
Malleshwaram, Bengaluru,
Karnataka - 560055
Book an Appointment

7. Fortis Hospital, Bannerghatta Road
Fortis is a multi-disciplinary hospital in Bannerghatta locality of Bangalore. It has state-of-the-art treatment technology combined with the best medical experts. The hospital follows international standards of medical practice and hence provides only the best facilities in terms of health-care to their patients. The department of obstetrics and gynecology provides full-range of diagnostic and surgical facilities to the patients coming to them for treatments.
Services and Facilities:
276 bedded facility
Separate ICU
Blood bank
Ambulatory services
Reliable laboratory testing facilities
Specialties:
Gynecological Cancer Treatment and Management
Myomectomies
Ultrasound and X-ray services
IVF and Intra-uterine Insemination Technology
Prenatal Counseling
Awards and Recognitions:
Joint Commission International certification
Contact Address:
154/9, Bannerghatta Road,
Opposite IIM-B, Bengaluru,
Karnataka - 560076
Book an Appointment

8. Aster CMI Hospital, Hebbal
Aster CMI in Hebbal is one of the hospitals in Bangalore belonging to the Aster DM health-care group. The Hebbal facility has the capacity to look after 500 patients at a time. The obstetrics and gynecology ward is the wing that tends to health issues in adolescent girls, adult ladies and senior citizens.
Services and Facilities:
500 bedded facility
High Dependency Unit
In-house laboratory testing and pharmaceutical facilities
Well-equipped operation theaters
Round-the-clock pharmacy and blood bank
Specialties:
Gynec-oncology
Genetic Counseling
Infertility Clinic
Medical Termination of Pregnancy (MTP)
Da vinci Robotic Surgery
Awards and Recognitions:
NABH accreditation
NABL accreditation
Contact Address:
Aster CMI Hospital43/2,
New Airport Road,NH-7, Sahakara Nagar
Hebbal, Bengaluru, Karnataka 560092, India
Book an Appointment