Best Gynecology Hospitals in Chennai
1. Apollo Hospital, Greams Road
This is the flagship facility of the Apollo group. The Greams Road facility is a fully-equipped tertiary care center. Established in 1983, it has since then managed to set and follow high standards of medical practice for itself over the years. The gynecology discipline caters to women, teenagers and senior citizens. The department also offers comprehensive medical care and counseling to expecting mothers and families.
Services and Facilities:
600 bedded hospital
24*7 available diagnostic facilities for gynecological testing
Lactation consultation available for expecting mothers
Comprehensive care to expecting mothers right from conception to child-birth
Infertility clinic
Lactation clinic
Cyberknife technology for excision of tumors
Specialties:
Gynec-Oncology
Gynecology and Obstetrics
Adolescent Gynecology
Awards and Recognitions:
Winner of All India Critical Care Hospital Survey, 2017 conducted by by Times Health
JCI accreditation
Conferred with Best Medical Tourism Facilities Award the title of Hospital of the year, 2015
Contact Address:
Apollo Hospitals, No. 21, Greams Lane,
Off Greams Road, Chennai, TamilNadu - 600006
Book an Appointment
2. Billroth Hospital, Shenoy Nagar
Billroth hospital in Shenoy Nagar is a prominent multi-specialty in Chennai. The warm ambiance and dedicated medical team, give patients a welcome feeling. The Institute of Gynecology and Obstetrics provides a comprehensive line of treatment for women of every age. The hospital has established a variety of clinics on their premises for dealing with different health disorders that women suffer with advancing age.
Services and Facilities:
600 bedded facility
Well woman clinic
Breast clinic
Menopause clinic
Adolescent clinic
Cancer screening clinic
Fully equipped labor suites
PAP tests
HPV screening
Mammogram
Infertility evaluation
Specialties:
IVF Consultation and Counseling
Minimally Invasive Gynecologic Surgery
Fibroid Removal
Family Planning
High Risk Obstetrics
Ovarian cyst removal
Hysteroscopy
Awards and Recognitions:
NABH accredited hospital
NABL accredited laboratories
Contact Address:
Billroth Hospitals, 43, Lakshmi Talkies Road,
Shenoy Nagar, Chennai - 30.
3. Fortis Malar Hospital, Adyar
The Women Care unit of Fortis Malar caters to all-round care of a women's health that encompasses childbirth, menopause and a host of other gynecological issues. It is the most trusted facility and hence, most frequented by female patients in Chennai.
Services and Facilities:
180 hospital beds
24*7 working blood bank, chemist store and ambulance facilities
4 operation theaters
Fortis Bloom IVF Center
Radiological and pathological diagnostic testing
Specialties:
Adolescent Gynecology
Menopause management
Keyhole Surgeries for Gynecologic disorders
Cancer prevention and Surgeries
Cystectomy
Uro-gynecology
Family planning counseling
Painless Labor
Awards and Recognitions:
Hospital has received Joint Commission International (JCI) accreditation
This medical facility also has been accredited by National Accreditation Board of Hospitals and Healthcare Providers (NABH)
Fortis Malar also has a blood bank that is the first NABH accredited facility in Tamil Nadu
The Week - A, C. Neilsen Survey 2014 ranked it as the third best multi-speciality hospital in Chennai
Contact Address:
Fortis Malar Hospital,
No. 52, 1st Main Road,
Gandhi Nagar, Adyar, Chennai 600 020.
Book an Appointment
4. Global Health City, Perumbakkam
Global Health City is a hospital chain part of the Parkway Pantai group. It is also among the most trusted hospitals in Hyderabad, Chennai, Bangalore and Mumbai regions. The gynecology discipline is the finest facility for women to get treated of their health disorders. The department has few of the best gynecologists and gynecology surgeons serving patients. The medical consultants have extensive experience and are known for best surgical outcomes.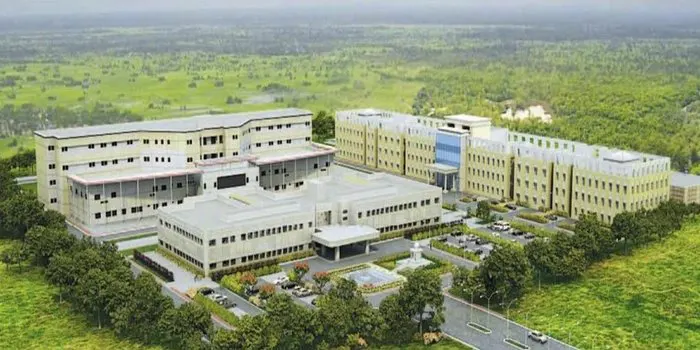 Services and Facilities:
1000 bedded hospital
Infertility clinic
Diagnostic testing for gynecological diseases that is highly precise
Advanced facilities available for painless labor
Electronic monitoring
Specialties:
Gynecologic-oncology
Management of Ovarian Cysts, Fibroids, Uterine Polyps etc.
Female Infertility
Menopause
Sexual Dysfunction in Females
Menstrual Disorders
Prenatal Counseling
Uro-Gynecology
High risk pregnancies
Robotic Surgeries
Awards and Recognitions:
Laboratories in this hospital have accreditation by NABL
Hospital also has NABH accreditation
Awarded as "The Consumers Trusted Hospital 2017" by Reader's Digest
Contact Address:
439, Cheran Nagar, Perumbakkam,
Chennai - 600 100, Tamil Nadu
Book an Appointment
5. Prashanth Hospitals, Chennai
Started as an infertility research center, only for treating couples suffering from infertility, it was later developed into a multi-specialty. Prashanth hospitals operate across more than 60 specialties. Prashanth Women and Children is the department of this hospital that caters exclusively to the wellness of kids and mothers. The center also regularly treats women suffering from reproductive system disorders including cancers, menstrual disorders, menopause and many more.
Services and Facilities:
4D ultrasound imaging system for tracking growth of fetus during pregnancy
PAP Smear testing
Well Women Health Check
Mammogram
Breast Clinic
Endometriosis Clinic
Menopause Clinic
Antenatal, Postnatal and Family Planning Clinics
Specialties:
Uterine Prolapse
Lactation Counseling
Newborn Care
Hysterectomy
Urinary Incontinence
Urinary Tract Infections (UTI)
Fibroid Removal
Awards and Recognitions:
Contact Address:
1. Prashanth Hospital
Velachery No.36 & 36A,
Velachery Main Road, Velachery,
Chennai - 600 042.
2. Prashanth Hospital
Chetpet 76 & 77 Harrington Road,
Chetpet,Chennai - 600 031
Book an Appointment
6. Apollo Speciality Hospital, Vanagaram
Apollo Specialty Hospital in Vanagaram has capacity of handling 260 patients at a time. With its medical expertise in terms of consultants and infrastructure, the hospital has differentiated itself from its competitors in an adept manner. With patient service as its cornerstone, this medical facility has achieved trust, credibility and a patient-base. The gynecology facility handles female-specific disorders with its cutting-edge technological expertise.
Services and Facilities:
260 bedded unit
Round-the-clock available ambulance, chemist and blood bank services
Gynecological examinations
Round the clock emergency unit
Specialties:
Infertility Management
Gynecological Cancer Treatments
Adolescent Gynecology
Urological Disorder Management
IVF
High Risk Obstetrics
Endometriosis Management
C-section Delivery
Embryo Cryopreservation
Recurrent Pregnancy Loss
Body Contouring Surgery
Contraception
Awards and Recognitions:
Hospital has Joint Commission International (JCI) certification
Contact Address:
No.64, Vanagaram - Ambattur
Main Road, Chennai 600 095
Book an Appointment
7. Vijaya Hospital, Vadapalani
Vijaya Hospitals have always been a superior medical facility in Chennai. With state-of-the-art treatment facilities and reliable diagnostic testing features, patients are sure to receive the most appropriate healthcare. The obstetrics and gynecology facility covers a wide range of diagnostic and treatment facilities, including ultrasound testing, gynecological cancer screenings, fibroid removal, childbirth, uterus removal etc.
Services and Facilities:
750 bedded unit
9 operation theaters
Breast Clinic
Mother's Milk Bank
Specialties:
Laparoscopic Hysterectomy
Laparoscopic Myomectomy
Lapaoroscopic Excision of Ovarian Cysts
Hysteroscopic Lysis of Adhesions
Hysteroscopic Endometrial Ablation
Gestational Diabetes
Management of Recurrent Miscarriages
Gestational Hypertension
Infertility Treatments
Urinary Incontinence
High Risk Pregnancies
Awards and Recognitions:
Ranked Among Top Hospitals in Chennai
Contact Address:
No.434, N.S.K.Salai, Vadapalani,
Chennai - 6000 26, India
8. SIMS Hospital, Vadapalani
SIMS Hospital is a medical facility built over a 2,30,000 sq.ft area. The hospital offers treatment facilities across prominent medical disciplines. The Institute of Obstetrics & Gynecology and IVF offers state-of-the-art treatment facilities for treating various female health disorders. The institute covers everything from preconception counseling, recurrent miscarriages, ovarian disorders, to preparing expectant mothers.
Services and Facilities:
360 bedded unit
Antenatal Yoga classes
Diet counseling
Colposcopy
Diagnostic Laparoscopy and Hysteroscopy
LETZ / LEEP Procedures
Specialties:
Vaginal Hysterectomy
Pelvic Organ Prolapse
Intrauterine Insemination
Fetal Medicine
Assisted Reproductive Technology
Awards and Recognitions:
Winner of AHPI Nursing Excellence Award 2017
Contact Address:
No.1, Jawaharlal Nehru Salai, 100 Feet Road,
Next to Vadapalani Metro Station,
Vadapalani, Chennai, Tamil Nadu 600026
9. MIOT Hospitals, Manapakkam
Madras Institute of Orthopedics & Traumatology (MIOT) is an internationally acclaimed multi-specialty. It is frequented by patients residing in 129 countries. The department of Obstetrics & Gynecology treats women and adolescents suffering from common gynecological disorders. The department also offers screening, diagnosis and surgical treatments for gynecological cancers.
Services and Facilities:
1000 bedded hospital
21 state-of-the-art operation theaters
3D Digital Mammography System
Sonomammography
Trans vaginal and trans rectal scan
Digital Mamma-tomography
Computerized Radiography
Biopsies
Specialties:
Hysterectomy
Cystectomy
Thermachoice Uterine Balloon Therapy
Endometrial Polypectomy
Submucosal Fibroid Removal
Septal Resection
Awards and Recognitions:
Hospital has won Best Service Provider, Southern Region (Gold) for 5 consecutive times
Hospital also has NABL certification
Hospital has NABH accreditation
Contact Address:
MIOT International, 4/112,
Mount Poonamalle Road Manapakkam,
Chennai - 600 089 Tamil Nadu