Best Multispeciality Hospitals in Pune
1. Ruby Hall Clinic, Sassoon Road
A 550 bedded facility, Ruby Hall Clinic is among the oldest hospitals serving residents of Pune. It is a socially responsible medical facility which is evident from the fact that they carry out social awareness and check up camps in rural areas of Maharashtra on a regular basis. They are considered pioneers of cobalt therapy for cancer treatments and initiating coronary care and intensive care units.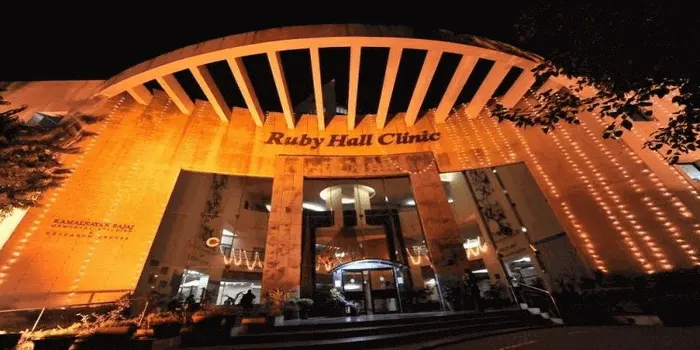 Services and Facilities:
550 patient beds
Blood bank facilities
Physiotherapy
Speech therapy
Health Check Center
3 cardiac catheterization labs
Specialties:
General Surgery
Cardiology
Gastroenterology
Neurology & Neurosurgery
Obstetrics & Gynecology
ENT
Urology
Hematology
Orthopedics & Joint Replacement
Critical Care
Spine Surgery
Cancer Treatment
Awards and Recognitions:
Pune's first NABH accredited hospital
Contact Address:
Ruby Hall Clinic,
40, Sassoon Road,
Pune - 411001,
Maharashtra.
Book an Appointment

2. Aditya Birla Memorial Hospital, Thergaon
Aditya Birla Memorial Hospital in Pune is one of the many huge and advanced multi-specialty medical units in the city. The hospital is situated in Thergaon which is located on outskirts of Pune. It has every type of diagnostic and surgical treatment machinery for treating different diseases and disorders.
Services and Facilities:
500 bedded hospital
152 ICU beds
13 state-of-the-art operation theaters
Laboratory testing services
Radiological testing
Physiotherapy and rehabilitation
Wellness packages
Wellness Assessment Center
Test tube baby clinic
Specialties:
Cardiac Sciences
Critical Care
Dental Sciences
Emergency Medical Services
ENT
Gastro Sciences
Internal Medicine
Joint Care & Orthopedics
Pediatric & Gynecology
Neuro Sciences
Nutrition & Dietetics
Oncology
Ophthalmology
Pain Management
Plastic & Reconstructive Surgery
Renal Sciences
Skin Care
Vascular Sciences
Assisted Reproductive Technologies (ART) services
Awards and Recognitions:
National Accreditation Board for Hospital (NABH) accreditation
National Accreditations Board for Testing & Calibration Laboratories (NABL) accreditation
First hospital in the State of Maharashtra to be accredited by Joint Commission International, USA
First ever Indian hospital to be certified with an Hazard Analysis Critical Control Point (HACCP) rating
ISO: 22000:2005 certified multi-specialty hospital
CAP certification
Have been health-care partners with Puneri Paltan team in Pro-kabaddi league
Contact Address:
Aditya Birla Marg, Chinchwad,
Pune - 411033
3. Sahyadri Hospitals, Pune
Sahyadri Hospital is one of the highly prominent and recognized health-care groups having its presence across various cities in Maharashtra. It has gained recognition from well-known media groups like Times of India. The hospitals have gained recognition and success because of the medical expertise and infrastructural wealth.
Services and Facilities:
6 hospitals with 900 beds
2300 medical professionals
Sugar Care - Your Diabetes Clinic
Neuro Clinics
Obesity Surgery Clinic
Specialties:
General Surgery
Internal Medicine
Plastic Surgery & Cosmetology
Rheumatology
Obstetrics & Gynaecology
Orthopaedics & Joint Replacement
Cancer-care
Endocrinology
ENT
Pediatric Neurology
Cardiology and cardiothoracic surgery
Awards and Recognitions:
Recognized as the "Best Asian Healthcare Brand" by Economic Times
National Accreditation Board for Hospitals & Healthcare Providers (NABH) accreditation
Among 4 Indian hospitals to be granted accreditation by The Association for the Accreditation of Human Research Protection Programs (AAHRPP)
ISO 15189:2007 and National Accreditations Board for Testing & Calibration Laboratories (NABL) accredited pathology labs
Contact Address:
1. Sahyadri Hospital Kothrud
Plot No. 9 B, Neena Society, S.No.1484A/B,
Paud Road, Opp. Vanaz Factory, Kothrud,
Pune – 411 038, Maharashtra, India
2. Sahyadri Hospital Hadapsar
G & G Towers, S.No. 153/A,
Hissa No. 124 / 21, Magarpatta,
Pune-Solapur Road, Hadapsar
Pune – 411 028, Maharashtra, India
3. Sahyadri Hospital Bibwewadi
Plot No. 13 S. No. 573, City No.281
Swami Vivekananda Marg, Bibwewadi
Pune – 411 037, Maharashtra, India
4. Sahyadri Speciality Hospital Nagar Road
Near Hermes Heritage, Shastri Nagar,
Nagar Road, Yerawada
Pune 411006, Maharashtra, India
5. Surya Sahyadri Hospital
1317, Kasba Peth, Near Shaniwar Wada,
Pune 411011, Maharashtra, India
6. Sahyadri Speciality Hospital Deccan Gymkhana
Plot no.30 – C, Erandwane, Deccan Gymkhana,
Pune 411004, Maharashtra, India
Book an Appointment

4. Jehangir Hospital, Sassoon Road
Founded in the decades of 40s, this iconic hospital has held ground even after so many generations of its inception. It was the first private hospital in Pune in February 1946. The hospital hosts diagnostic and surgical facilities for every medical discipline from cardiology to plastic surgery.
Services and Facilities:
350 beds
Wellness Center
Investigation and diagnostic services
Stroke Clinic
Back-pain Clinic
Bone and joint clinic
Kidney Clinic
Obesity Clinic
Breast Care Clinic
Specialties:
Cosmetic Surgery
Heart Care
Orthopedics
Dermatology
Oncology
Obstetrics & Gynecology
Neonatalogy
Plastic and reconstruction surgery
Pain management
General Surgery
ENT
Pediatric Surgery
Urology
Awards and Recognitions:
NABH accreditation
ISO 9001 certification
Contact Address:
32, Sassoon Road, Near Pune Station,
Pune, Maharashtra - 411001
5. Inamdar Multispeciality Hospital, Fatima Nagar
Inamdar multi-specialty endeavors to provide state-of-the-art investigative and surgical services for patients suffering from different types of diseases. Delivering timely and prompt care in most patient cases is very crucial for saving lives. The doctors work on this very principle and hence, have helped the hospital in getting a positive name and reliability amongst patients.
Services and Facilities:
120 in-patient beds
Suite of Intensive Care Units consisting of NICU, PICU, CCU, MICU, NTU
Bio conditioned operation theater
Endoscopy operation theater
Physiotherapy
Home care consisting of pharmacy, lab investigations and nursing
Specialties:
Audiology
Cardiac Surgery and Cardiology
Bariatric & Metabolic Surgery
Dental
Urology
Orthopedics
Infertility
Microvascular Surgery
Neurology and Neurosurgery
Rheumatology
Arthroscopy
Obstetrics & Gynecology
Awards and Recognitions:
Recognized among residents for an esteemed panel of doctors
Regularly recognized among the top hospitals across Pune
Contact Address:
Hospital Building S. No,
15, Fatima Nagar, Pune
6. Columbia Asia Hospital, Kharadi
This hospital bears proximity to the IT Park in Kharadi. Hence, it was of great service not only to the IT employees working in Kharadi but also the residents living in Kharadi. The medical practices and infrastructural facilities both are such that the patients get best of care and treatments. The hospital provides treatment facilities across 51 different medical specialties. It has become a popular medical facility among residents of Kharadi and surrounding areas of Pune.
Services and Facilities:
100 bedded unit for patient consultation
Sports medicine and arthroscopy clinic
Cancer screening clinic
Cardiac screening clinic
Diabetes clinic
Joint replacement clinic
Pain clinic
Weight loss clinic
Travel medicine
Shoulder clinic
Cochlear implant and bone anchored hearing aid clinic
Detailed health check packages
Specialties:
Cardiology and Cardio-thoracic Surgery
Pediatrics
Obstetrics & Gynecology
Neonatalogy
Orthopedics & Joint Replacement
Urology
Internal Medicine
General Surgery
Sports Medicine
Surgical Gastroenterology & Oncology
Endocrinology
Neurosurgery & Neurology
Cardiovascular Surgery
Psychology
Nephrology & Renal Transplant
Obesity treatment & Bariatric Surgery
Pain management
Awards and Recognitions:
Contact Address:
#22/2A, Near Nyati Empire,
Kharadi Bypass Road, Kharadi,
Pune - 410 014
Book an Appointment

7. Noble Hospital, Hadapsar
Noble hospital is a 250 bedded facility located in Hadapsar locality of Pune. It is erected on a 1,85,000 sq.ft area land. This hospital strives to provide best of medical care to its patients with the help of its state-of-the-art technologies. The hospital houses comprehensive treatment for every type of health concern suffered by adults and children.
Services and Facilities:
341 patient beds
Bureau Veritas certified operation theaters
Physiotherapy
Sports Clinic
Dialysis
Diabetic clinic
Burn ICU
Poly clinic
Lab & ECG facilities
Level 3 Trauma Center
Blood Bank
Specialties:
Cardiovascular Surgery
Oncology & Onco Surgery
Diabetes and Obesity
Joint Replacement
Cardiac & Cardio Thoracic Surgery
Orthotic & Prosthetic
Neuro & Neuro Surgery
IVF
Trauma Care
Pediatrics & Pediatric Surgery
Awards and Recognitions:
NABH accreditation
ISO-9001 certification
Contact Address:
153, Magarpatta City Road,
Hadapsar, North Hadapsar,
Hadapsar, Pune, Maharashtra
Book an Appointment

8. Kotbagi Hospital, Aundh
Serving residents of Pune since 1967, Kotbagi hospital has seen to the health of several generations of families in the city. It has all requisite facilities like ultrasonography, centrally monitored operation theaters, bed-side X-ray and hemodialysis units. The hospital has always made patient-comfort their top priority. That is the key ingredient of their dedicated patient-base.
Services and Facilities:
100 bed facility
Intensive Care Unit (ICU)
Well-equipped operation theaters geared with generator backup
Central Monitoring System and Central Oxygen/Suction
24 hour open chemist store
Chirayu Health Card
Physiotherapy
Government recognized Medical Termination of Pregnancy (MTP) center
Specialties:
Urology
Pediatrics
Oncology
Orthopedics
Cardiology
Dermatology
Gynecology
Ophthalmology
ENT
Gastroenterology
Respiratory Medicine
Surgery
Contact Address:
163 D.P. Road, Aundh
Pune- 411007